What muscles do squats target?
If there's a single exercise that can work your entire body, it's the squat. While the leg muscles do most of the work, anybody who has performed squats – especially weighted squats – knows that they engage many other muscle groups, which is why they're great for building an athletic body.
To do a proper squat, you need more than just strong leg muscles; well-developed core muscles are also essential. To perform squats, you have to stabilize your body position and hold the weight appropriately, which makes squatting a global exercise. Not surprisingly, then, on gym machines that isolate the leg muscles, such as the leg bench press, you'd able to lift much heavier weights than when squatting with a barbell.
What's the correct squat technique?
To do squats properly, you need to engage the whole body in the exercise.
Starting position: place your feet hip-width apart, parallel to each other. Pull your shoulders and shoulder blades down, and tighten your abdominals and glutes.
Begin the squat by moving your hips back. Next, lower your body at the knees.
In the lower phase of the squat, your knees may go beyond the toes, but make sure not to turn your knees inwards to form an 'X' shape. Check that your knees are pointing outwards the entire time.
Keep your heels on the floor and your back straight. Maintain an upright position throughout the exercise – don't bend your back.
Preparing for squats
Squatting is an exercise that requires good mobility in the hip and ankle joints, and even... in the shoulder joints if you perform weighted squats. Before squats, it's a good idea to have a dynamic warm-up routine, focusing on:
the range of motion in the hip joints – hip opening exercises will help you move your knees outwards safely,
the range of motion in the ankle joints – if you have difficulty keeping your heels on the floor or your back straight in the lower phase of the squat,
the range of motion in the shoulder joints – if you perform squats with a barbell on your back, in front of your body or overhead.
Also check out these resources: "Pre-workout warm-up – a sample set of exercises from a trainer".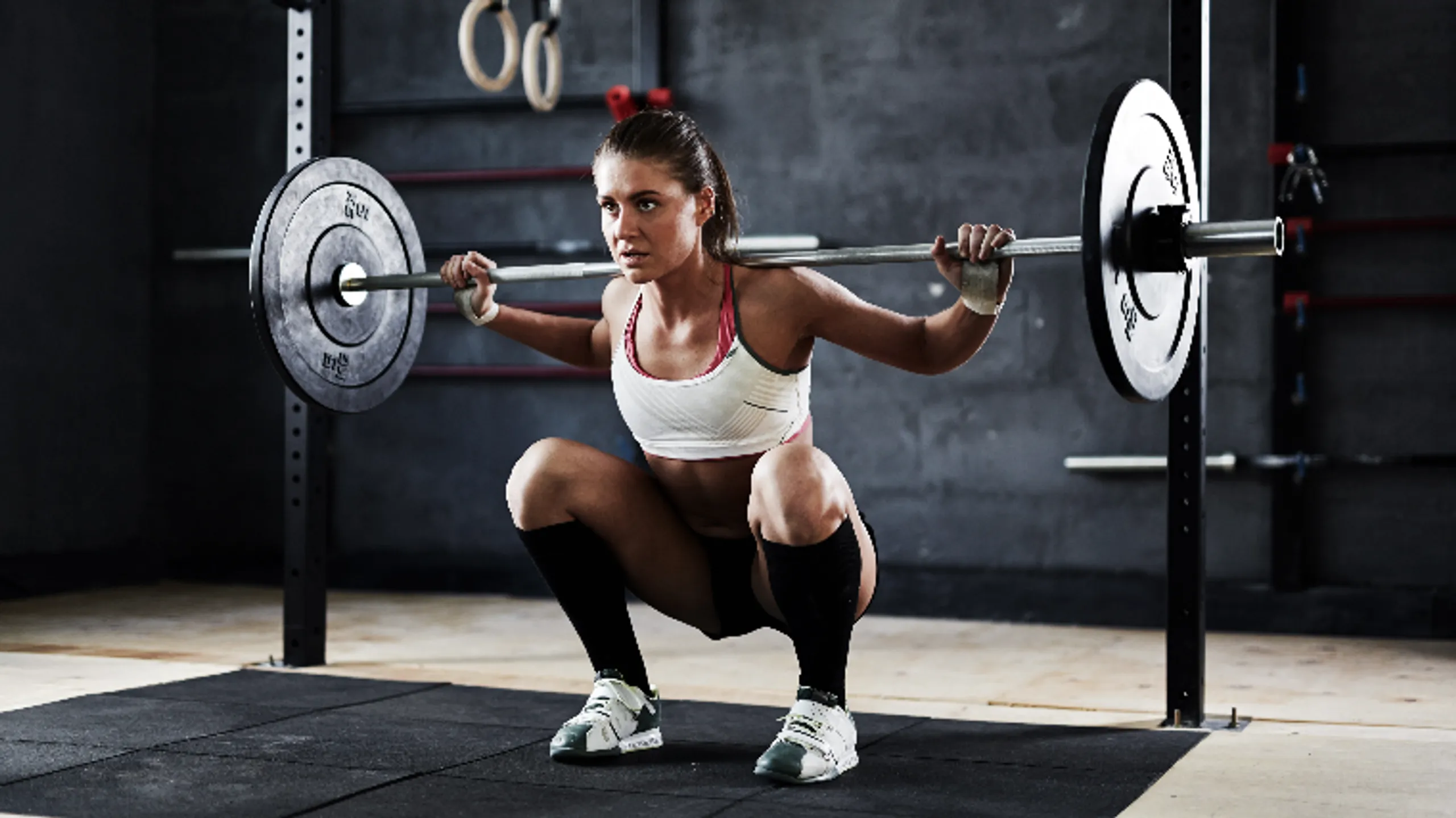 Squats – what are the benefits?
Squats are multi-joint exercises that engage the entire body, offering a wide range of benefits (as long as they are performed regularly).
The muscle groups most involved in squats are, of course, the leg and gluteal muscles. These muscles play a vital role in various sports and everyday activities. Keeping your leg muscles in good shape makes it easier to move around and do your daily tasks, so focusing on them is well worth the effort. Squats are also a great exercise for those who want to lift, tone, and sculpt their buttocks and thighs in order to improve their physique.
Strengthening of postural muscles
The back and abdominal muscles are just as important as leg muscles, not only in sports, but also in day-to-day activities. The stronger your postural muscles, the less likely you are to experience back pain and the better posture you have. Because of their complexity, squats also contribute to the strengthening of this muscle group.
The more muscles you engage in your exercise, the more calories you burn during your workout. This is precisely why squats are an incredibly effective way to burn extra calories. By involving the entire body and elevating the heart rate, they increase the body's energy expenditure. Consequently, squats are a good exercise for those who want to shed excess weight.
Improved mobility and reduced risk of injury
Squats target all body muscles and, as an add-on benefit, they're performed through the full range of joint motion. This means that in addition to enhancing the strength of your muscles, squats improve their flexibility. These two factors play a key role in enhancing mobility and decreasing the risk of injury while pursuing other sporting activities, such as skiing or playing football.
To get more tips, read: "Best exercises for skiers – get ready for the slopes".
Types of squats
To do squats, all you need is your body and a small space around you. Of course, it's a good idea to make the exercise more varied by adding weight, for example a barbell or kettlebell, though it's not necessary. You can do squat-based workouts virtually anywhere: at home, at the gym, during an outdoor workout, on holiday or on a business trip in your hotel room. The possibilities are plentiful, and so is the range of squat variations.
In addition to classic squats, you have the following variants to choose from:
single-leg squats ('pistol squats'),
split squats,
Bulgarian split squats – or single-leg squats where the back leg is elevated on a bench,
goblet squats – or squats with a kettlebell held at chest height,
squats with barbells: in back, front, or overhead position,
Zercher squats – performed while holding a barbell at the front of the body and in the crooks of the elbows,
all kinds of dynamic squats: with jumps or hops.
There're many ways to include squatting in your workouts. Integrating squats into your regular exercise routine brings multiple benefits, provided that your technique is correct.
To get more tips, read: "Eight body-shaping exercises with elastic bands". The article also includes a section on squats.
………….
References:
1. Frédéric Delavier, "Atlas treningu siłowego", PZWL, wyd. 2, 2011.
2. Glen Cordoza, Kelly Starrett, "Bądź sprawny jak lampart. Jak pozbyć się bólu, uniknąć kontuzji i zwiększyć sprawność", Galaktyka, 2015.