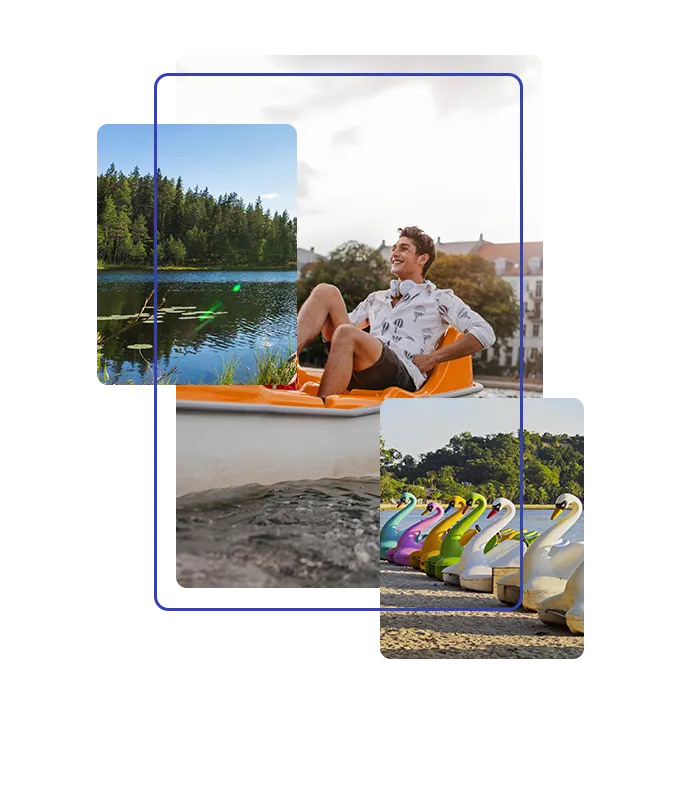 PERFECT TRIO
Sun, water, physical activity
Pedal boating is a good way to exercise the muscles of the abdomen, legs and arms, to sunbathe, and to spend time with your loved ones – all at the same time! Burn calories and enjoy yourself to the full.
Find your nearest pedal boat rental.

Check if the facility accepts your card.

Take your card and an identity document with you.

Enjoy the game!
Stay fit throughout the year
Don't give up on physical activity during the summer heat. Pedal boating is a great alternative to your regular outdoor activities on hot days. Feel like a ship captain and stay on the deck of physical fitness! Find a pedal boat rental nearby and enjoy the summer!
How does it work?
Your MultiSport card gives you access to thousands of facilities in Poland.
Find the one closest to you and ... enjoy it!

Find a facility
Use our search to find the nearest sports facility. With MultiSport you have access to thousands of places across Poland!

Take your card
Found the place you want to go to? Ready, steady, go! Don't forget to take your MultiSport card and your ID. You can also use the MultiSport mobile app on your phone.

Take care of your body and mind
Turn off your phone, turn on positive thinking and take care of your body and well-being.
One card, plenty of possibilities
With MultiSport you can do a lot more than just go to the gym or the swimming pool. Find out more!