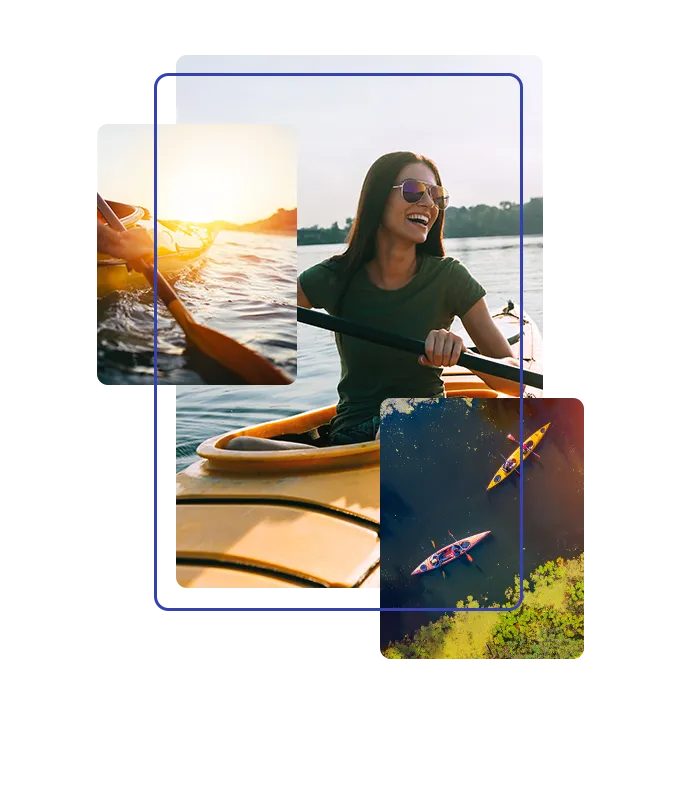 Active summer
Paddle your way to fitness
Kayaking is a great sport if you want to strengthen your muscles, get fitter, and have an unforgettable carefree experience. Invite your family and friends on a kayaking adventure!
Find the nearest facility where you can rent equipment.

Check if the facility accepts your card.

Take your card and an identity document with you.

Put on a life vest, take your kayak out into the open water, and have fun.
Something good for your body
Kayaking is a great way to get in shape and boost your health, but also to get back in touch with nature and spend some active time with your loved ones. Find the nearest facility where you can rent equipment and get the most of your kayaking experience.
How does it work?
Your MultiSport card gives you access to thousands of facilities in Poland.
Find the one closest to you and ... enjoy it!

Find a facility
Use our search to find the nearest sports facility. With MultiSport you have access to thousands of places across Poland!

Take your card
Found the place you want to go to? Ready, steady, go! Don't forget to take your MultiSport card and your ID. You can also use the MultiSport mobile app on your phone.

Take care of your body and mind
Turn off your phone, turn on positive thinking and take care of your body and well-being.
One card, plenty of possibilities
With MultiSport you can do a lot more than just go to the gym or the swimming pool. Find out more!