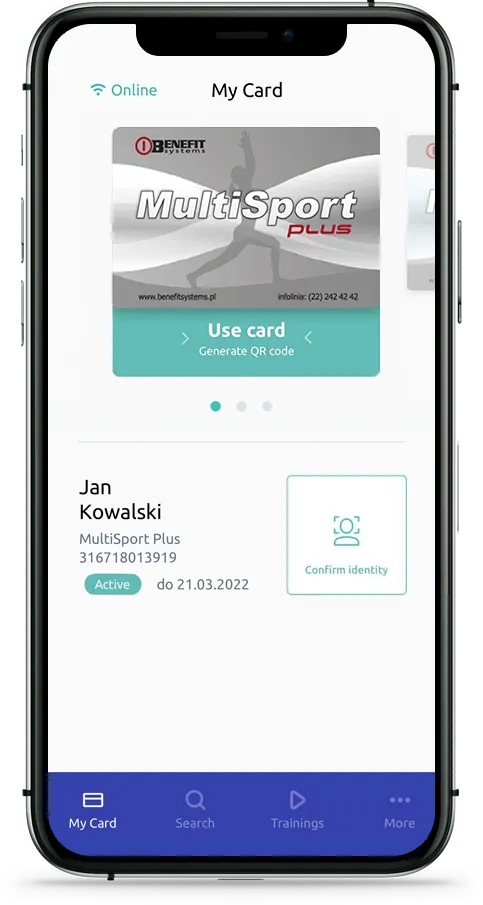 Why get the MultiSport app?
With the MultiSport app, you can enter sports facilities even faster. All you need to do is generate the QR code in the application and show it to the staff at the entrance, even if you don't have access to the internet. What's more:
Access to a wide range of online workout sessions.

Monitor physical activity with a pedometer.

Manage all your additional cards in the app.

Find facilities in your area even faster.
Do more with the MultiSport app
Download the free app today, discover all the possibilities, and start a healthy lifestyle the way you like.

Find facilities in seconds
Thanks to the search option, you will always find the closest facility in your area.

Enter facilities together
You can enter a facility together with your kids without the need to show each card.

Exercise at home
With the MultiSport mobile application, you have access to many online training programs.
Frequently asked questions
How do I use my mobile MultiSport card? Is there any extra charge?
Who can use a mobile MultiSport card?
What has changed since April 2021 in the area of logging into the mobile app and the websites kartamultisport.pl and emultisport.pl?
The device that scans QR codes generated by the MultiSport app in the sports facility is out of order. How do I log my entry?
How do I cancel a visit using my mobile MultiSport card in the app?
How can I add my child's card to my app?
Can I share an additional card in the mobile app with other people?
What is the procedure of confirmation of my identity at a sports facility?
Can I change my photo in the application?
What are the requirements for the photo in the application?
Have a question?
If you have any more questions, please feel free to contact us. We are happy to help!