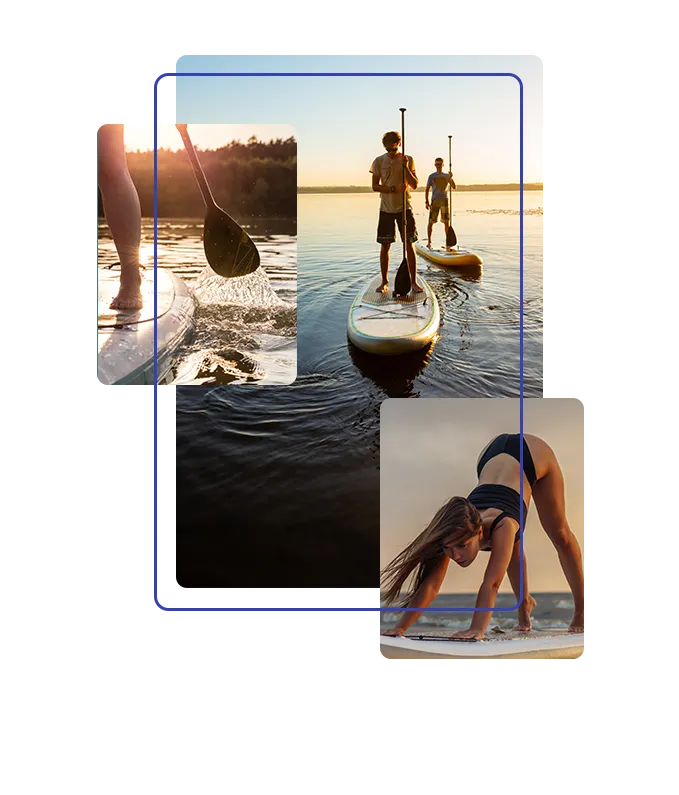 aktywne lato
Catch your balance and practice good posture
Standup paddleboarding is rising in the popularity stakes. No wonder, because this water sport carries a lot of benefits. It sculpts all the muscles of the body, helps to maintain a healthy posture, and improves balance and stability. It's also a proven way to relax. Check it out!
Find the nearest facility where you can rent equipment.

Check if the facility accepts your card.

Take your card and an identity document with you.

Enjoy the game!
Work on your fitness or just relax
Depending on the intensity, SUP can be a general fitness exercise or a fantastic way to relax. It doesn't require any special skills, either.
Find the nearest SUP rental and start your new adventure today!
How does it work?
Your MultiSport card gives you access to thousands of facilities in Poland.
Find the one closest to you and ... enjoy it!

Find a facility
Use our search to find the nearest sports facility. With MultiSport you have access to thousands of places across Poland!

Take your card
Found the place you want to go to? Ready, steady, go! Don't forget to take your MultiSport card and your ID. You can also use the MultiSport mobile app on your phone.

Take care of your body and mind
Turn off your phone, turn on positive thinking and take care of your body and well-being.
One card, plenty of possibilities
With MultiSport you can do a lot more than just go to the gym or the swimming pool. Find out more!