What exactly is barre workout, and where does it come from?
Barre workout originates from classical ballet where dancers use the barre for support and balance while making various poses and moves. In the 1950s, Lotte Berk, a German ballet dancer, created her own training method which combined elements of ballet with physical techniques of post-injury rehabilitation. It was her method, known as the Lotte Berk Method, that gave rise to the barre workout which is now popular all over the world.
Barre workout is available to all age groups and proficiency levels. A typical workout session will include a sequence of whole-body exercises by the barre or on a mat. Barre exercises focus on an improvement of muscle strength, endurance, flexibility, balance, posture and coordination. A combination of dynamic and isometric movements engages both the large and small muscle groups which helps tone the body, strengthen the deep core muscles and improve physical endurance.
Benefits of Barre workout
One of the main advantages of barre workout is that it may be practiced by anyone, no matter their age or fitness level. The movements are precise and controlled which minimises the risk of injury.
Barre workout not only strengthens the muscles; it also improves flexibility and posture which translates into better mood and back health. In addition, it is known for its beneficial impact on motor coordination and the ability to concentrate.
Does barre workout have any disadvantages?
Despite its numerous benefits, barre workout also has one major disadvantage. It is not a high-energy workout that will help you burn a high amount of calories in a short time. If your main goal is to lose weight, it may be necessary to combine barre workout with other forms of physical activity, such as a cardio workout.
Not all fitness centres may be equipped with barres: this may discourage people who enjoy that type of training. Obviously, you can always replace the barre with a sturdy chair or a ladder, but then the exercise loses some of its appeal. If that's the case, it's a good idea to focus on the glamorous ballet elements.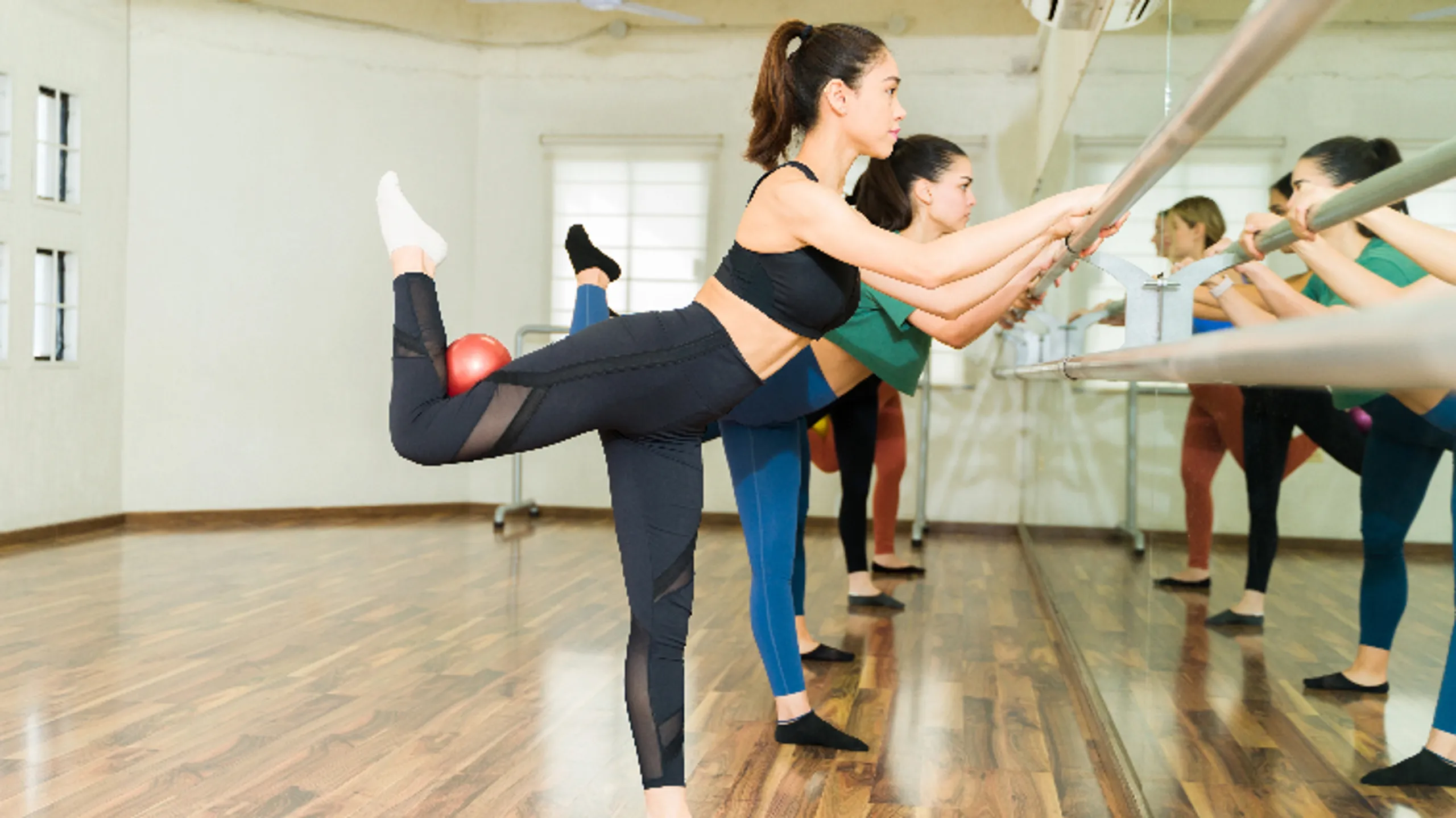 What results can you get if you go for barre workouts?
You can get various results if you engage in barre workouts on a regular basis. First of all, it will help you strengthen the muscles, most significantly your legs, glutes, arms and belly. They will become stronger and your body will get slimmer.
Moreover, barre workout helps make the body more flexible which may be beneficial to people who also take other fitness classes, such as dancing, yoga or Pilates. Furthermore, practicing barre on a regular basis may result in an improvement of the overall physical condition. Besides, this workout technique is full of grace and it is perfect for those who love the beauty and do not enjoy working out at the gym or a boxing ring.
What do you need for barre workouts?
You need a few basic elements to practice barre:
Barre – it is the basic element of this workout technique that is used for support and balance. It may be a special barre that can be found in fitness centres which offer that type of classes or an ordinary sturdy piece of furniture where you can rest your hands.
Comfortable clothing – ideally, stretchy clothes that will allow you to move freely and make complex moves. Typically, people are recommended to wear clothes that fit close to their body – leggings, a workout tank or a T-shirt. It is also a good idea to wear grippy socks or ballet shoes.
Exercise mat – even though most exercises during a barre class are done by the barre, a mat is also frequently used for exercises done on the floor. It provides amortisation and comfort while lying, sitting or for other positions on the mat.
Dumbbells or small exercise balls – during a barre class, you can use light dumbbells or small balls to make the workout more intense.
For more information on dumbbells and kettlebells, please read: "Weights for exercising at home – 6 things to keep in mind".
What do barre workouts look like?
Isometric techniques, or holding poses for a certain time to strengthen the muscles, are frequently used during barre workout. The movements are precise and controlled. Barre workout also frequently employs sequences of repetitions, pulses, contractions and stretches. By making these movements constantly during a barre class, you will strengthen your deep core muscles, improve your flexibility and body posture.
Regardless of your skill or fitness levels, barre workout may be an interesting and effective option that will help you make your body more fit. Take a look at your goals, try out a barre class and find out how this form of workout can help you improve your overall well-being.
………..
References:
1. https://en.wikipedia.org/wiki/Barre_(exercise).
2. Trening Barre (wideo).