Expanding on the theme of mushrooms in an athlete's diet, it is worth clearly separating food mushrooms from functional ones. All of the mushroom species listed below are edible, but food mushrooms are used as an ingredient in healthy meals, and the functional ones are more in the form of dietary supplements. They are consumed in specified doses, such as in powdered form or as extracts. If you are an active person, both groups of mushrooms will be of interest to you, and consciously incorporating them into your menu can allow you to get surprising results.
4 advantages of food mushrooms in an athlete's diet
Both farmed and forest edible mushrooms are very healthy. Athletes often underestimate them and rarely put them on the menu, because they are not a significant source of specific macronutrients. Indeed, they will not significantly increase the proportion of protein in the diet (they contain from 1 to 5 g/100 g of it), but their consumption can bring other benefits to the bodies of active people. Here are some of the main benefits of eating mushroom meals for active people.
1. Mushrooms are a significant source of minerals important to athletes
There can actually be a lot of minerals in food mushrooms. They contain potassium, calcium, iron, magnesium, phosphorus, copper, manganese... and several other trace minerals in various proportions. The exact mineral content of mushrooms depends largely on their species and the environment in which they grow.
In terms of calcium content of popular edible mushrooms, the richest are birch boletes. 100 grams of birch bolete is as much as 880 mg of calcium, several times more than in, for example, milk or plant-based drinks. For athletes, calcium is crucial in the remodelling of cartilage. For this reason, mushrooms can make a great addition to the diet after an injury, especially after fractures.
Some mushroom species also contain significant doses of iron. This information can be very valuable for active people who have problems regulating haemoglobin, ferritin and other dietary iron-related parameters. In mushrooms you will find non-heme iron, which is less absorbable than, for example, iron from meat. Eating mushrooms, therefore, cannot be the only measure taken if you realistically want to improve your blood count. Nevertheless, they can introduce an extra dose of iron into the menu. In practice, this may be most relevant for athletes on plant-based diets: vegans and vegetarians.
IMPORTANT: the growth environment has a major impact on the composition of mushrooms. They absorb valuable elements from the soil, but toxic metals such as lead, arsenic or mercury can also get into them. For this reason, it is better not to pick forest mushrooms in industrial areas and near busy roads.
2. Mushrooms contain priceless vitamin D
Mushrooms are the only (besides the sun) source of vitamin D that is not of animal origin. They contain quite significant amounts of vitamin D2 and another (less known) form of it: vitamin D4.
Most vitamin D is found in forest mushrooms that grow in the sun:
forest chanterelles will provide about 10.7 μg of vitamin D/100 g,
ceps – even more than 50 μg of vitamin D/100 g,
champignons – about 1.5 μg of vitamin D/100 g,
other farmed mushrooms (e.g. oyster mushrooms, shiitake and portobello) – less than 1 μg of vitamin D/100 g.
Interestingly, studies have shown that vitamin D synthesis in mushrooms occurs in their cells under sunlight even after they are picked. If you want to increase the content of this vitamin in mushrooms, expose them to the sun. It works even when the mushrooms are already cleaned and sliced! Mushrooms synthesise vitamin D rapidly in this way. 15 minutes in the sun can produce an additional 17 μg of vitamin D for every 100 grams of fresh mushrooms.
Vitamin D2 from mushrooms is considered a less active form than the more popular vitamin D3. Nevertheless, it is possible in the body to convert vitamin D2 into a form that is used by cells. According to studies, eating mushrooms can directly contribute to raising the 25(OH)D parameter in the blood, which quite reliably reflects the saturation of the body with vitamin D.
This is another strong argument for including mushrooms in an athlete's diet. For active individuals, it is suggested that the concentration of this parameter oscillate in the upper half of normal, that is around 40-50 ng/ml. This is very important, because for physically active people, vitamin D deficiency means, for example: more frequent infections that exclude from training and participation in competitions, higher risk of injury and lower efficiency of muscle protein synthesis.
Although mushrooms are a good vitamin D supplement, even if you eat a lot of them, don't give up on the supplementation recommended for all Poles. A diet rich in mushrooms will not fully cover the body's needs for this component.
Read also: "How to Soak up the Sun All Year Round".
There are several other important micronutrients in mushrooms, most notably B vitamins, and there is also a lot of vitamin A in the yellow varieties of edible mushrooms (such as chanterelles and saffron milk cap).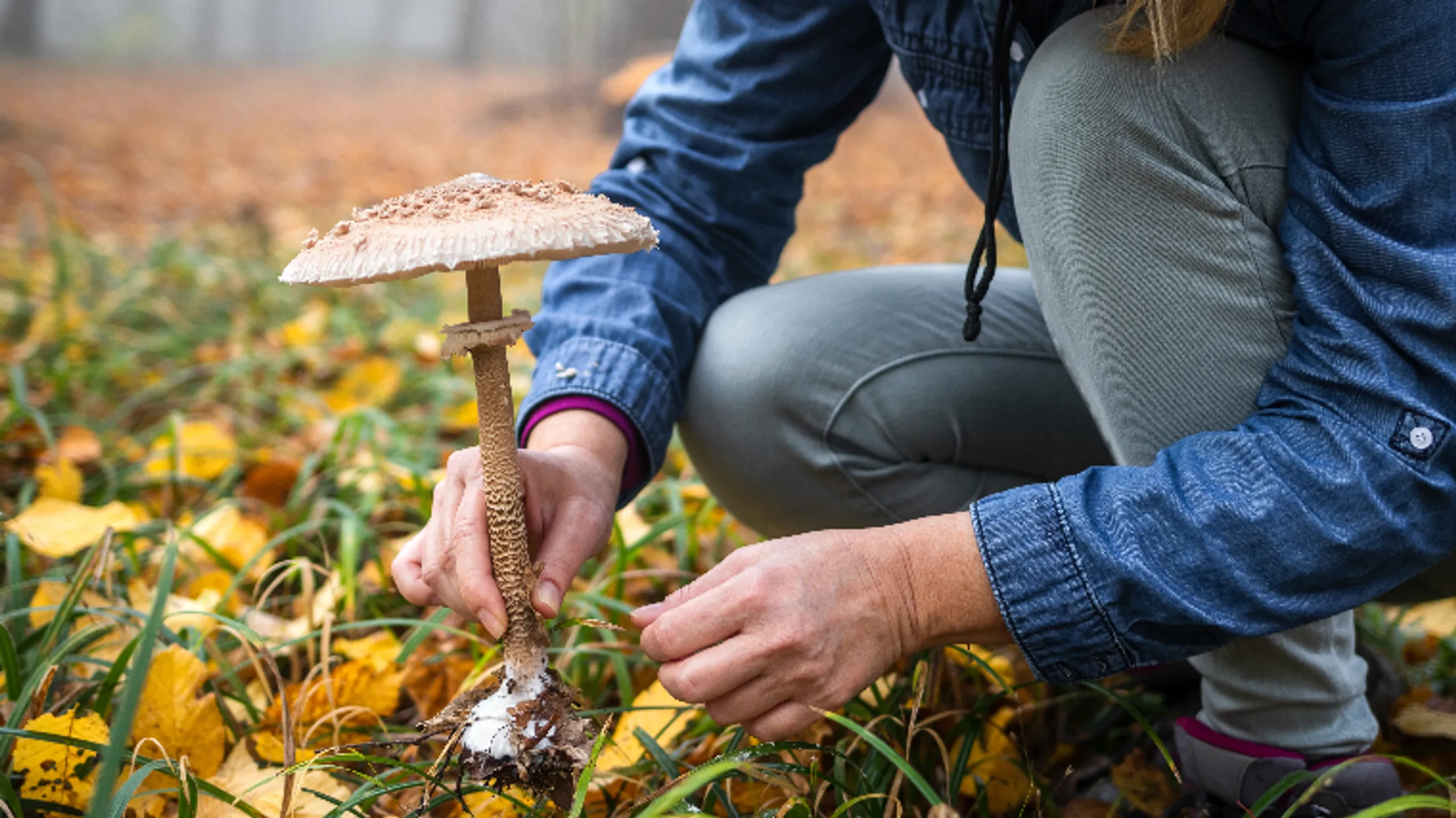 3. Mushrooms can enrich meals with protein
Mushrooms are sometimes called "forest meat", although after examining the macronutrient content of mushrooms and meat, this can be considered an exaggeration. Comparing the protein content of mushrooms, for example, to the protein content of chicken, soybeans or eggs, mushrooms pale in comparison. Nevertheless, one cannot ignore the fact that some species provide as much as 5.5 g protein/100 g. It is most abundant in young specimens of forest mushrooms:
ceps – about 5.5 g/100 g,
parasol mushrooms – about 5 g/100 g,
oyster mushrooms – about 3.3 g/100 g,
shiitake mushrooms – about 2.2 g/100 g,
champignons – about 3 g/100 g,
birch boletes – about 3.5 g/100 g,
chanterelles – about 1.5 g/100 g,
saffron milk caps – about 2 g/100 g.
You won't build a high-protein meal on mushrooms alone, but their addition will do a great job of supplementing the entire menu with amino acids. Mushrooms are rich in, for example, lysine, an amino acid that is lacking in grain products. So to complete the amino acid profile, it is worth combining groats/rice/bread with mushrooms. Even a few grams of protein from mushrooms will be valuable for athletes on plant-based diets – the quality, absorption and consumability of protein from a plant-based meal with mushrooms will be improved due to the effect of protein amino acids complementing each other.
4. Mushrooms are an excellent food for a weight loss diet
Mushrooms are an excellent product in a weight loss diet, thanks to: a dose of fibre, low fat content, high nutrient density and distinct flavour. They are also very low in calories. 100 g of fresh champignons is only 17 kcal, and 34 kcal is provided by 100 g of fresh ceps.
At the same time, mushrooms have a distinct umami flavour, which perfectly boosts the aroma of any dish. It is especially valuable on a weight loss diet, where any low-calorie flavour variety is worth its weight in gold.
The cell walls of mushrooms are made of chitin – a type of dietary fibre. In mushrooms, you'll find about 1-5 g of fibre for every 100 g of fresh mushrooms (depending on the species, freshness and hydration). Thanks to it, mushrooms provide satiety without adding unnecessary calories.
When including mushrooms in a weight loss menu, it is worth modifying the way they are processed. In traditional recipes, mushrooms are often fried in a lot of butter or drowned in creamy sauces. In a low-calorie diet, it is better to bet on grilling them or gently frying them in a small amount of olive oil. You can also add mushrooms to one-pot dishes or tomato-based sauces instead of fatty cream.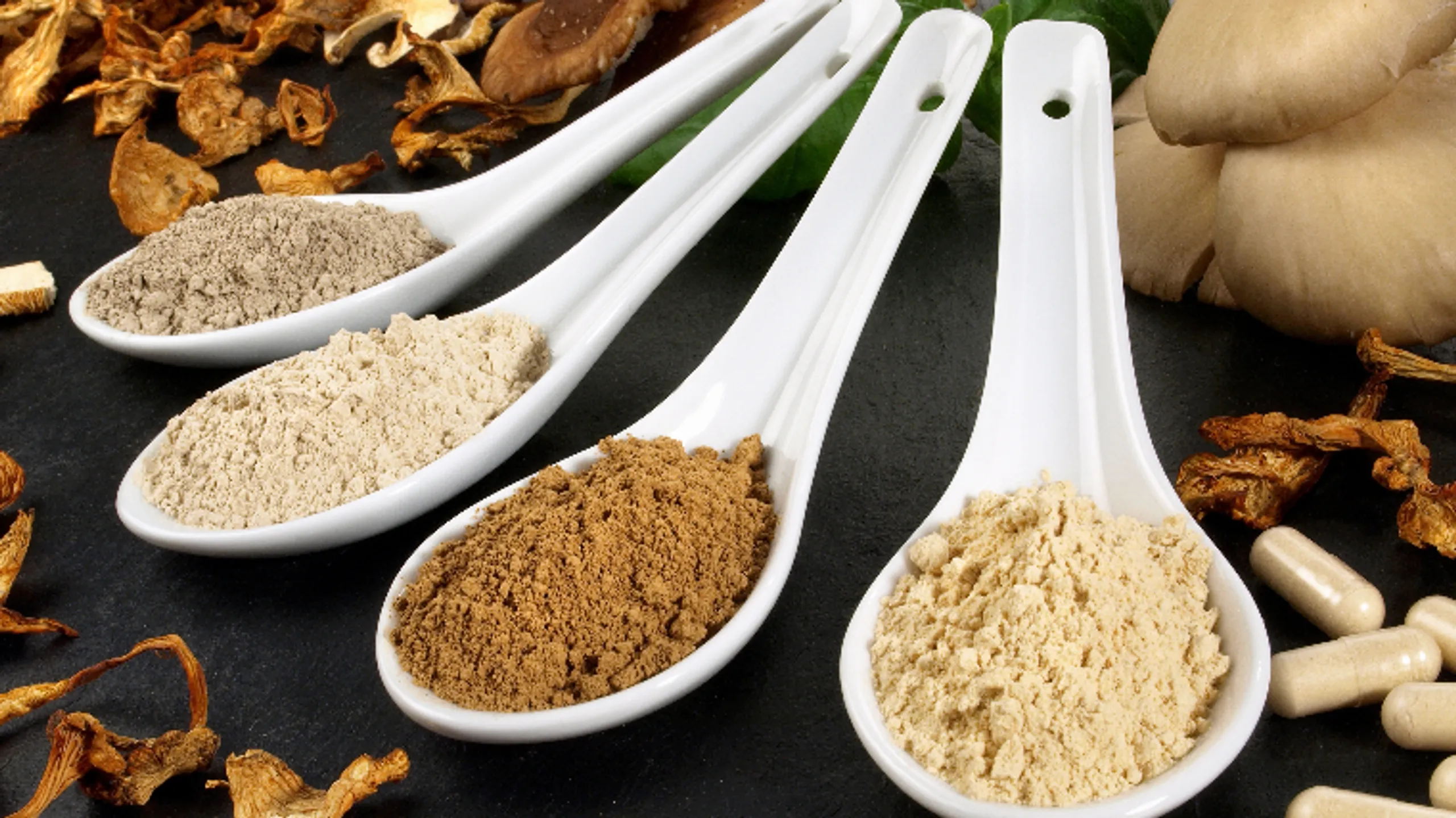 Functional mushrooms for athletes
The kingdom of fungi is very diverse and relatively little understood; they surprise scientists at every turn. In addition to the well-known edible mushrooms in Poland, other less common species will be of great interest to sportspeople. Due to their unusual properties, they have received the name of functional mushrooms and even medicinal mushrooms. They are often sold in powdered form as dietary supplements. There may be a lot of power in them, which will allow you to support your body even more optimally in case of physical exertion.
Cordyceps is one of the better researched functional mushrooms in terms of its effects on the health of physically active people. It is classified as a natural adaptogen. The effects of cordyceps supplementation can be noticed quite quickly. Short-term, cordyceps primarily improves tolerance to high-intensity exercise. What exactly does this mean? You can stay longer in the phase of performing at your maximum capacity, such as sprinting longer or getting tired more slowly in case of very intense rowing or swimming. This mechanism is attributed to an increase in aerobic capacity (as measured by the maximal oxygen uptake, VO2 max) through the support of the circulatory system.
Cordyceps can also have a positive effect on body mass composition as well as facilitate body recomposition: support muscle mass gain and fat mass loss. This is an advantage that is useful in many sports, as it increases endurance, speed, strength, and helps improve athletic performance.
Longer regular supplementation with cordyceps, lasting about 3 months, offers another benefit: a significant increase in lactate threshold. In simple terms, this means better muscular endurance during workouts, slower fatigue and the ability to undertake higher intensity exercises. Everything an athlete expects from training.
Cordyceps in athletes will work best if taken before the workout. A popular way to take it is to add powder with this species of mushroom to pre-workout coffee or dissolve it in water. It is recommended to start supplementation with a dose of 1 g of dried cordyceps per day and possibly increase it gradually until a maximum dose of 3 g/day is reached.
Reishi is another functional fungus and adaptogen that can be very useful to athletes. It has been intensively researched and used for a long time in Eastern medicinal practices. It is sometimes even called the "longevity mushroom".
Reishi, above all, is distinguished by its very strong anti-inflammatory and immunomodulatory effects. It is a source of natural triterpenoids and polysaccharides. As a result, it regulates the immune system, can reduce oxidative stress caused by workouts, and accelerate recovery after exercise.
It is the accelerated post-workout recovery, the fatigue-reducing effect and the desire to avoid post-exercise muscle soreness that prompts many athletes to include reishi in their supplementation routine. A pleasant side effect of its use is the potential reduction of stress, making it easier to fall asleep and supporting liver health (its antioxidant capacity is increased).
For best results, the reishi mushroom is worth supplementing regularly, along with a meal. It works at a dose of about 1.5 g/day. The highest doses of reishi that make clinical sense are 1.5 grams of dried mushrooms up to three times a day.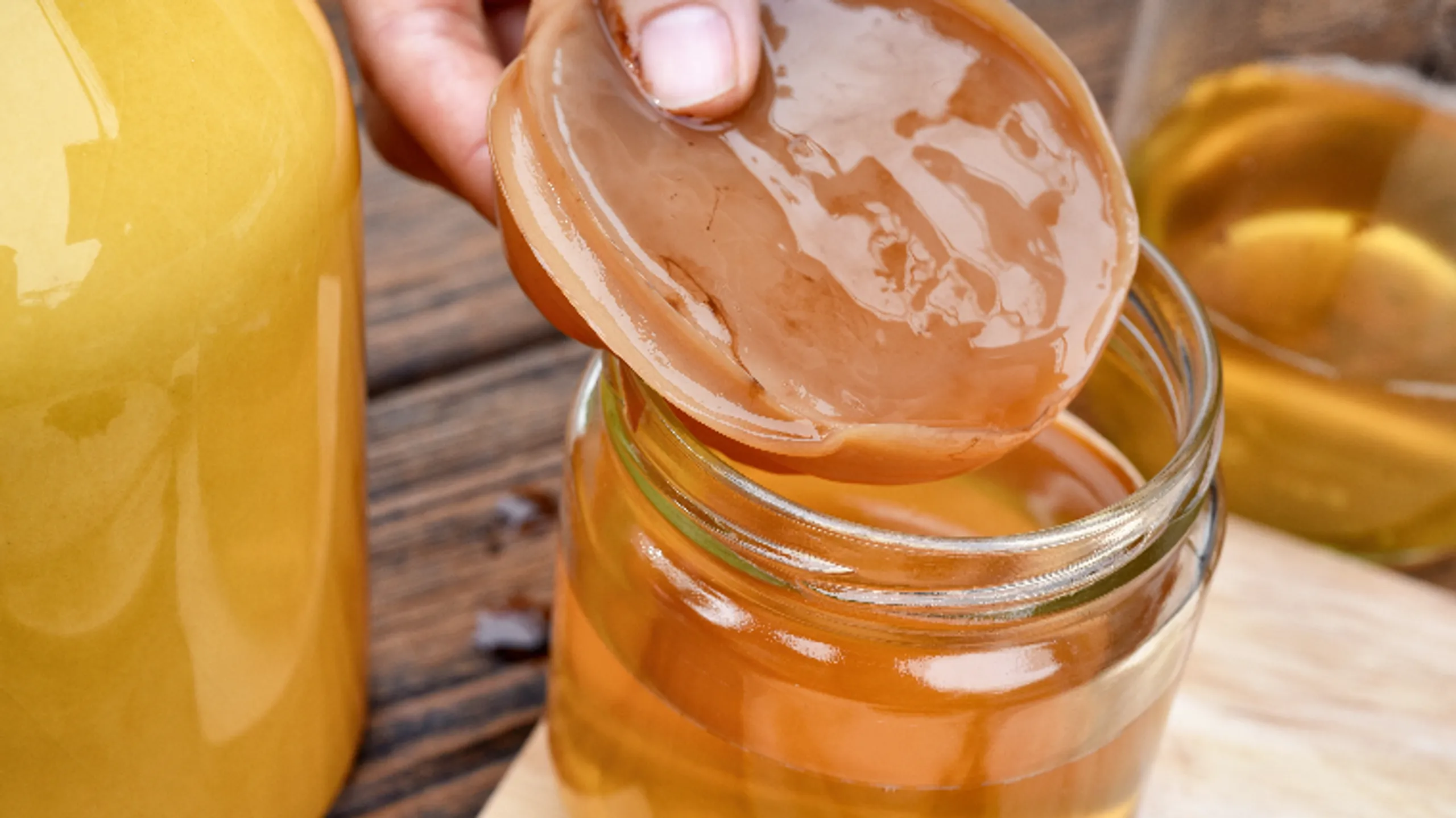 SCOBY for athletes, or the power of kombucha
When discussing mushrooms that are healthy for athletes, you also can't leave out the fungal cultures that are used to make kombucha. The SCOBY tea mushroom is technically not a fungus directly, but a bacterial-fungal culture that can turn sweetened tea into kombucha. SCOBY has the ability to ferment sugars and convert them into organic acids. The result? A healthy, refreshing drink rich in organic acids, antioxidants, probiotics and intestinal support particles. Kombucha can be an excellent supplement to an athlete's diet. It will work well as a natural isotonic drink, help regulate bowel function and provide healthy ingredients. Without the tea mushroom, this would not be possible.
Some also eat it directly (it's very rich in protein and fibre!) and add it to smoothies or soups, for example. From a health perspective, there are no contraindications to this, but it is worth noting that the taste and specific texture of SCOBY are described by most taste testers as "repulsive".
Other functional mushrooms for athletes
The trend of using functional mushrooms continues to surge. Scientists are intensively studying them and discovering their new properties. They reinforce existing evidence and explore the mechanisms by which certain mushroom species are actually worth using in supplementation. Less studied than the aforementioned species, but promising in terms of supplementation for athletes, are the following functional mushrooms:
Chaga – has above-average antioxidant properties, helps increase endurance and oxygen supply to cells. It can be useful for athletes during periods of heavy endurance training.
Lion's mane mushroom – can improve cognitive function, reduce recovery time and support digestive function. It is also used to reduce fatigue and support sleep quality.
Turkey tail – full of polysaccharides and antioxidants. For athletes, it helps with recovery and stress reduction, as well as optimising oxygen utilisation in muscle cells.
Mushrooms are a highly desirable ingredient in an athlete's diet. Go ahead and use edible forest and farmed mushrooms in the kitchen – diversify your healthy meals with them, reaping handfuls of their dietary benefits. Forest mushrooms are the richest in ingredients, but all species are worth eating. Approach supplementation with functional mushrooms wisely. Cordyceps and reishi are the mushrooms that are best studied for their usefulness for physically active people. Mushroom-based supplements are relatively expensive, so it's a good idea to carefully match the type and daily dosage to the desired goal, so as not to throw money down the drain.
Read also: "5 Supplements for Athletes That Don't Deliver What They Promise".
……………
References:
1. Chen CY, Hou CW, Bernard JR, Chen CC, Hung TC, Cheng LL, Liao YH, Kuo CH. Rhodiola crenulata- and Cordyceps sinensis-based supplement boosts aerobic exercise performance after short-term high altitude training. High Alt Med Biol. 2014 Sep;15(3):371-9. doi: 10.1089/ham.2013.1114. PMID: 25251930; PMCID: PMC4174424.
2. Sellami M, Slimeni O, Pokrywka A, Kuvačić G, D Hayes L, Milic M, Padulo J. Herbal medicine for sports: a review. J Int Soc Sports Nutr. 2018 Mar 15;15:14. doi: 10.1186/s12970-018-0218-y. PMID: 29568244; PMCID: PMC5856322.
3. Cardwell G, Bornman JF, James AP, Black LJ. A Review of Mushrooms as a Potential Source of Dietary Vitamin D. Nutrients. 2018 Oct 13;10(10):1498. doi: 10.3390/nu10101498. PMID: 30322118; PMCID: PMC6213178.
4. Urbain P., Singler F., Ihorst G., Biesalski H.K., Bertz H. Bioavailability of vitamin D2 from UV-B-irradiated button mushrooms in healthy adults deficient in serum 25-hydroxyvitamin D: A randomized controlled trial. Eur. J. Clin. Nutr. 2011;65:965–971. doi: 10.1038/ejcn.2011.53.
5. Urbain P, Jakobsen J. Dose-Response Effect of Sunlight on Vitamin D2 Production in Agaricus bisporus Mushrooms. J Agric Food Chem. 2015 Sep 23;63(37):8156-61. doi: 10.1021/acs.jafc.5b02945. Epub 2015 Sep 11. PMID: 26314311.
6. Hirsch KR, Smith-Ryan AE, Roelofs EJ, Trexler ET, Mock MG. Cordyceps militaris Improves Tolerance to High-Intensity Exercise After Acute and Chronic Supplementation. J Diet Suppl. 2017 Jan 2;14(1):42-53. doi: 10.1080/19390211.2016.1203386. Epub 2016 Jul 13. PMID: 27408987; PMCID: PMC5236007.
7. Global medicinal mushroom extract market: information by type (shiitake, reishi, chaga, maitake, cordyceps, turkey tail and others), form (capsules & tablets, powder and liquid), function (antioxidants, immunity enhancer, skin care and others) and region (North America, Europe, Asia-Pacific and rest of the world) – forecast till 2026. Market Research Future website. https://www.marketresearchfuture.com/reports/medicinal-mushroom-extract-market-4737.
8. Chen S, Li Z, Krochmal R, Abrazado M, Kim W, Cooper CB. Effect of Cs-4 (Cordyceps sinensis) on exercise performance in healthy older subjects: a double-blind, placebo-controlled trial. J Altern Complement Med. 2010 May;16(5):585-90. doi: 10.1089/acm.2009.0226. PMID: 20804368; PMCID: PMC3110835.
9. Hirsch KR, Smith-Ryan AE, Roelofs EJ, Trexler ET, Mock MG. Cordyceps militaris Improves Tolerance to High-Intensity Exercise After Acute and Chronic Supplementation. J Diet Suppl. 2017 Jan 2;14(1):42-53. doi: 10.1080/19390211.2016.1203386. Epub 2016 Jul 13. PMID: 27408987; PMCID: PMC5236007.