Read on to find out:
– why athletes incorporate plant-based protein into their diets,
– why it is a mistake for athletes to stay away from soy,
– which six categories of plant-based products you need to eat to enjoy great workout benefits.
As the popularity of plant-based diets continues to grow, there's a strong ongoing debate about the effects of plant-based nutrition on people who are actively involved in sports. Do you know the issues faced by vegetarians and vegans who work out on a regular basis? Read on to find out that some of the most common beliefs are nothing but myths.
Do you know what the famous triathlete Brendan Brazier, the world's top tennis players – the Williams sisters, and... Albert Einstein have in common? All of them opted for a nutritional model which excludes meat or all animal-based foods. This shows that, contrary to popular belief, a plant-based diet is not in any way inferior to the traditional meat-based way of eating. In fact, it is a nutritionally complete diet that is great for the body and mind.
More and more people – including celebrities and scientists – are becoming advocates for a plant-based diet. Almost everyone has a relative or friend who has given up animal products altogether, be it for reasons of health, ethics or ecology.
Despite this, there are still many controversies and myths surrounding diets with no animal products, especially in the context of the pre- and post-workout eating strategies. Is there any truth in them? Find out yourself!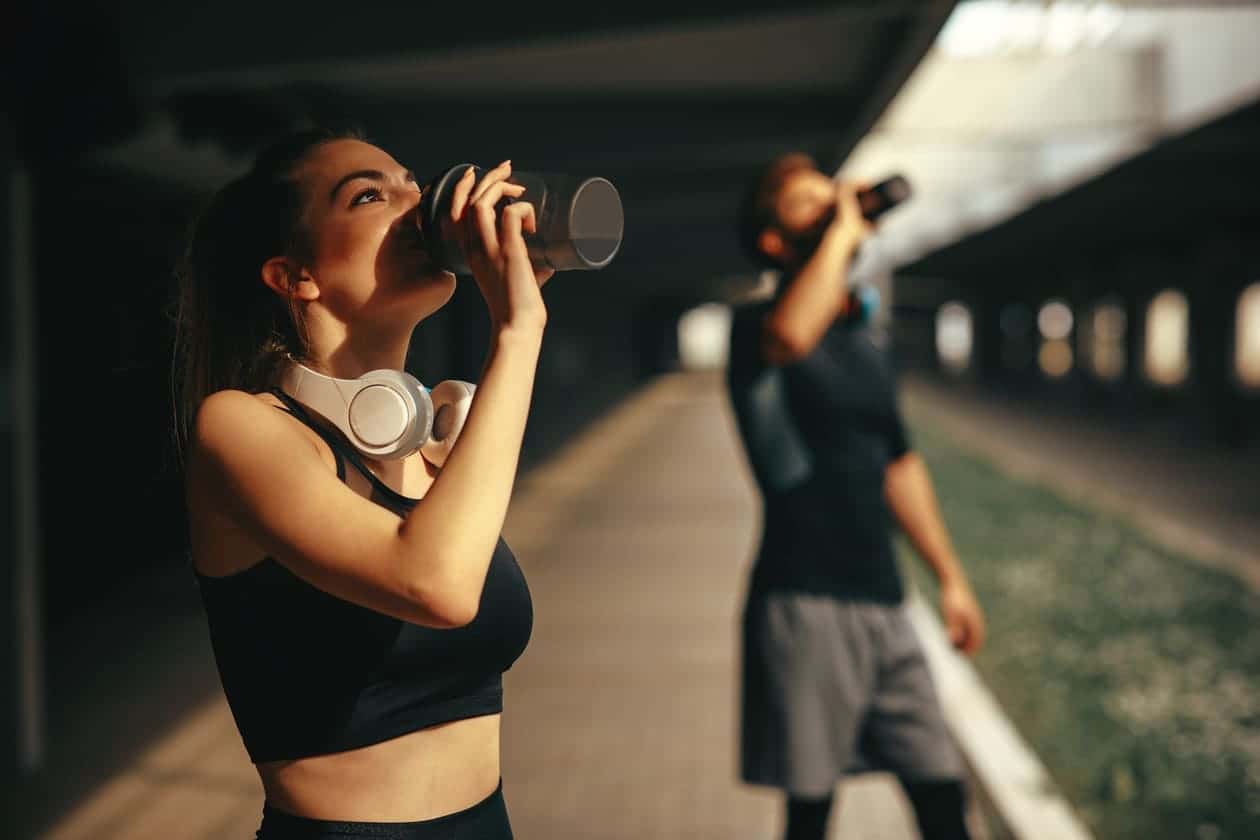 Myth #1: Plant protein does not build muscle
In addition to veganism, which eliminates all animal products, there are many other types of plant-based diets. Advocates of plant-based nutrition also include lacto-vegetarians, who do not eat meat and eggs, but consume milk and dairy products, or lacto-ovo-vegetarians who, in addition to milk, include eggs in their diet.
Cutting down on animal protein (especially poultry and beef, but also fish and seafood) may give rise to concerns that your protein intake is insufficient. After all, proteins – and the amino acids they're made up of – are considered the basic building blocks of body tissues and muscle mass. Do people on a plant-based diet really need to accept that their strength training will be less effective? Absolutely not!
Based on research conducted by the American Academy of Nutrition and Dietetics, plant protein is good for athletes, provided that their daily diet is well-balanced and carefully planned, and plant protein is consumed in the right proportions.[1]
If you're an active vegan or vegetarian, you need to make sure that your diet contains protein-rich plant products, including:
pulses (beans, chickpeas, lentils),

nuts and seeds,

oilseeds (linseed, sesame),

quinoa,

seaweed,

soy-based products (such as tofu).
---
[1] https://dietetycy.org.pl/dieta-roslinna-ile-o-niej-wiemy/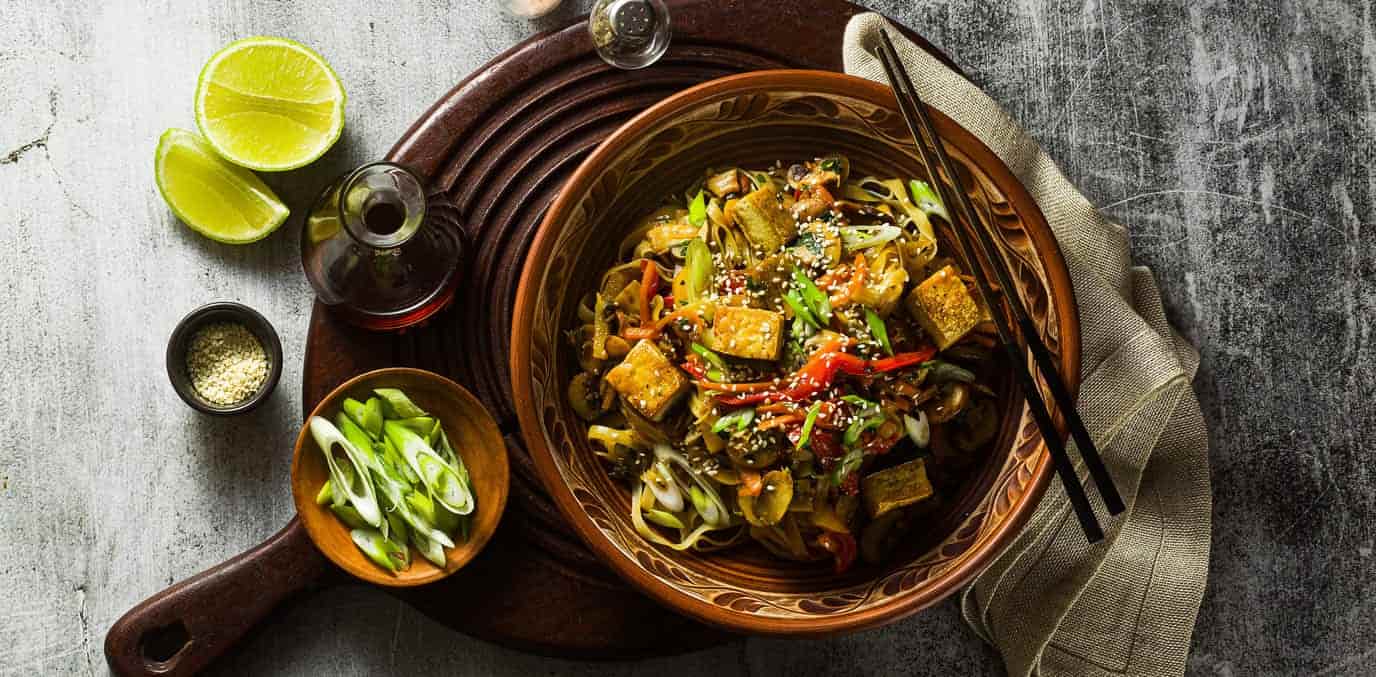 Myth #2: Athletes should stay away from soy
Soybeans are an excellent source of plant-based protein. Consequently, soy is the most popular substitute for meat in plant-based diets. In addition, soy foods have a lot of dietary fiber, which induces the feeling of satiety, as well as B vitamins and minerals. Based on these benefits, soy seems to be a valuable component of plant-based pre- and post-workout diets. So why are there so many concerns surrounding soy consumption?
Much of the controversy is attributed to isoflavones (or phytoestrogens) found in soybeans. They are structurally similar to female sex hormones and exhibit estrogen-like properties.
For this reason, many people started to claim that soy should be avoided – especially by men – because of the risk of causing hormonal imbalances ultimately leading to infertility or even gynecomastia (enlarged male breast tissue). The belief is indeed based on scientific research, including studies on rodents, but isoflavones were tested in huge doses, far exceeding the average intake by humans, even those following a soy-rich plant-based diet.
Damian Parol, a dietitian, mental health dietitian, bodybuilding instructor and long-term personal trainer, addresses this issue on his blog:
"Very high intake of soy products, on a long-term basis, is known to lead to hormonal problems in some men who are more prone to developing them. (…) However, eating soy in moderation is not expected to cause such problems. What is 'moderate' consumption of soy foods? This is actually quite a lot of soy-based products (...). You can have, for example, a block of tofu (180 g) and two glasses (500 ml) of soy milk to get close to the limit. And I am talking about having soy in almost every meal, on a daily basis."[1]
Plant-based diet and sports – tips and tricks to follow
Different types of plant-based diet are taking over the world of sports. Advocates include both ultramarathon runners and bodybuilders,[2] which shows that it is a healthy choice for maintaining great training performance in a variety of sports disciplines and on a pro level.
The key is to be aware of your dietary choices, so make sure that your meals provide a healthy calorie intake and different dietary components are well balanced, and opt for high-quality plant products. A good diet, composed according to these dietary recommendations, will improve your workout performance, but also contribute to preventing lifestyle-related diseases, and help maintain healthy body weight and shape.
Korzystaliśmy z następujących publikacji:
https://ncez.pzh.gov.pl/abc-zywienia/fakty-i-mity-dotyczace-diety-weganskiej/
https://dietetycy.org.pl/dieta-roslinna-ile-o-niej-wiemy/
https://dietetycy.org.pl/bialko-sojowe/
https://akademiakf.pl/dieta-roslinna-dla-sportowcow-i-aktywnych-co-musisz-o-niej-wiedziec-16
---
[1] https://www.damianparol.com/soja-i-testosteron/
[2] https://veganworkout.org.pl/top-10-sportowcow-na-diecie-weganskiej/