Does the gym remind you of a place soaked with testosterone and the spirit of barbell competition? It's far from that! The gym of today is a welcoming place for anyone wishing to enhance their body shape and strength, including the mental strength, through regular trainings. What do you need to know before you go to the gym for the first time?
Strength training – why is it worth a try?
Contrary to the name, your strength adventure doesn't have to start with the barbell trainings. Most of the facilities available with MultiSport, which you can find using the Facility Search, are in fact fitness clubs offering both heavy load and strength exercise options, as well as aerobics training equipment.
A good gym will have clearly designated training areas:
Aerobic machines section offering treadmills, steppers, stationary and elliptical bikes as well as strength machines such as the butterfly, the leg press machine or the sit-up bench;
Free weights section with typical accessories for building the muscle mass, such as various types of dumbbells, barbells, lifts or kettlebell weights.
How – apart from the equipment, of course – are these sections different for a gym beginner? The key is the training type and the section's purpose.
Aerobic machines section
A beginner should definitely start with the machines section – for at least two reasons. First, the machines enable aerobic training which, by oxygenating the tissues, significantly improves the overall efficiency of your body necessary to perform complex exercises planned in the long-term training perspective. Second – the strength devices used to work on individual muscles determine the precise movement range minimizing the risk of injuries related to improper muscle load. The machines also usually provide clear exercise instructions which can be helpful if a trainer is not available to support you with advice.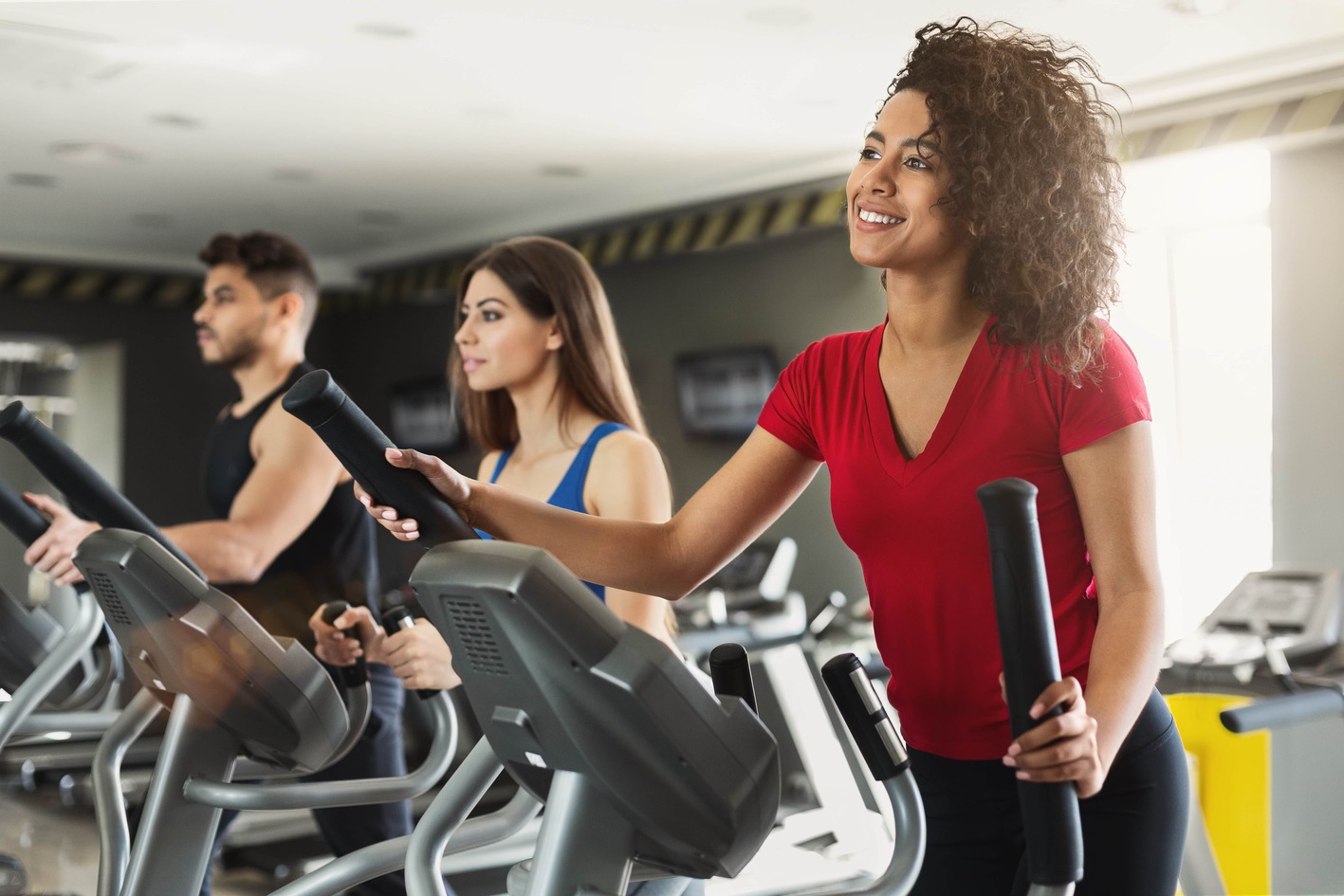 Initial trainings with machines and strength devices will help you prepare your body for further challenges in the free weights section which require professional trainer support (especially at the start, when you are still working on good coordination and correct load selection).
Free weights section
Why strive for a form which allows for advanced strength training? This type of activity affects the deep muscles, has a positive effect on the hormonal balance, helps to correct certain posture defects and, above all, enables to effectively burn the fat tissue and build a beautifully muscled figure. Don't fall for the stereotype – weightlifting is good for anyone whose health allows it! The right training plan as well as perseverance are the keys to not only your dream looks, but also to increasing your overall strength and self-confidence.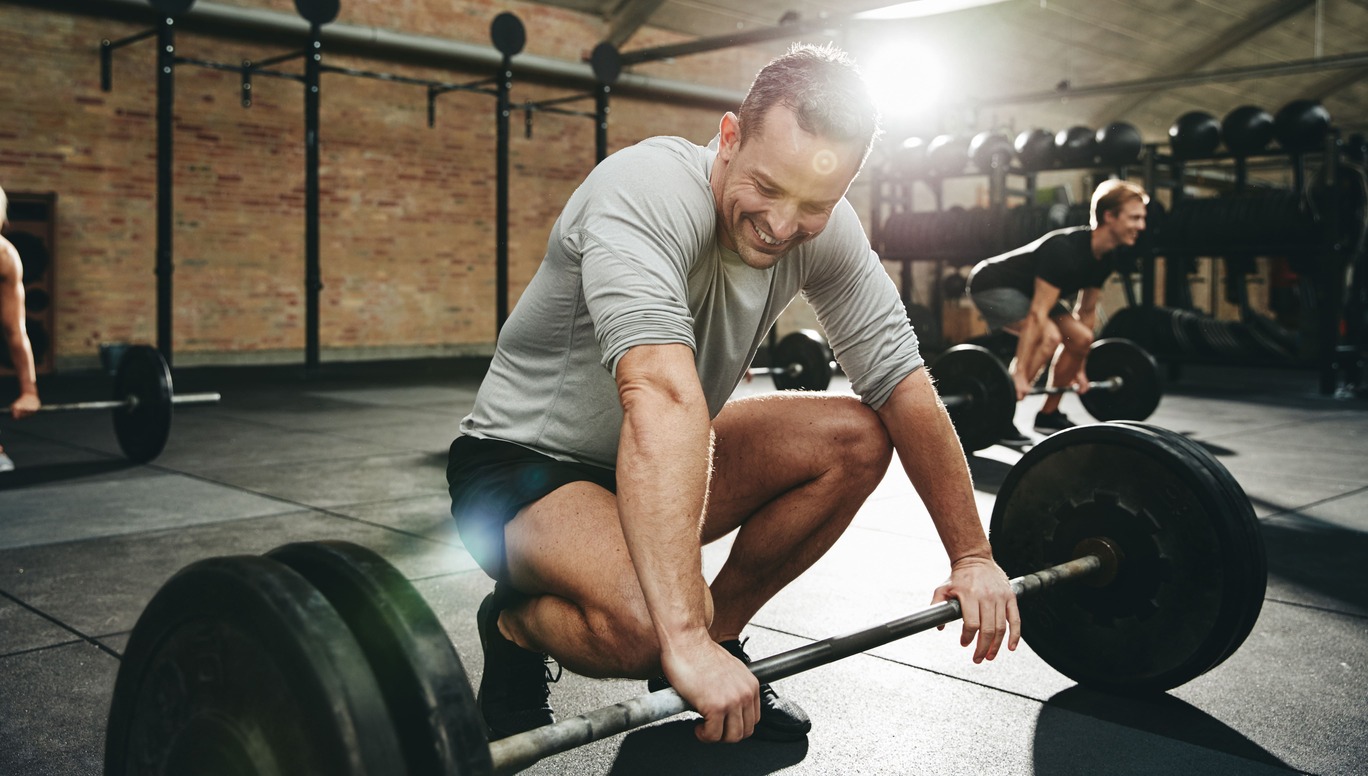 Gym for beginners: a training plan
One thing must be clearly emphasized: training at a gym is not for improvisers! You need a well-thought out action plan consulted with an experienced personal trainer. If you are going to the gym for the first time (and hoping it is not the last time!), you should definitely look for support from a professional who will help you define your goals and plan the order and intensity of exercise, considering your age, sex, health, as well as your earlier sports experience.
How to find such a professional? Most fitness clubs offer a one-time or long-term trainer consultancy. Also, don't forget that being a MultiSport card user, you can consult a trainer online.
Which gym to pick in order not to lose the motivation right after the first visit? Facilities located nearby or on your way home should be your first choice. It will be easier to just "drop by" the gym right after work rather than make yourself leave the house – and if you do go to the gym from home, then the closer it is, the more likely you are to reach it unhindered and regardless of the weather. It is important to feel comfortable at the gym, so if you don't like the atmosphere of a given facility, look for one that you will be happy to visit at least 2-3 times a week. And remember – even if you are just starting, you need to exercise effectively and, above all, safely, not forgetting about the obligatory warm-up, following your exercise plan and the machine use rules.
What to take with you?
When packing up your gym bag, don't forget:
A comfortable sports outfit (it doesn't have to follow the latest fashion, but must be comfy);

Sports shoes stabilizing the ankle and possibly training gloves;

A towel, or even two (one for the training and one after the shower);

Flip-flops and a body wash;

A bottle of water or an isotonic drink (not to be confused with an energy drink!);
Last but not least, don't forget your MultiSport card – and head straight to the gym – it's worth it!