There is no one who in moments of weakness will not miss their grandmother's paper-thin pancakes that used to fill the kitchen with their aroma in the morning, cocoa with bread covered in a cloud of thick cream, sprinkled with sugar or... pork chops generously bathed in lard gushing from the pan, served with potatoes and cucumber salad. Ah, memories!
Eating is supposed to give pleasure, but the more aware we are of the nutritional value and impact of what we eat on our health, the more often the red light goes on: watch out, are you eating that pizza/hamburger/cheesecake with caramel too often? (delete as appropriate).
You don't have to deny yourself these "sins" every time, but a stressful lifestyle or lack of regular physical activity can generate an inordinate number of searches for good connotations in our memoir cookbook.
Comfort food vs stress
Comfort food is an important aspect in mood adjustment. Studies from the early 2000s indicate that comfort food links the aspect of eating to a specific situation when we feel optimal, safe – just comfortable. *
We need this feeling in certain situations in order to achieve an optimal mental state: during moving out, stressful life moments or feelings of overwhelming sadness and depression. Then it is worth reaching into your cache and confronting your favourite recipes with a healthy, balanced diet.
The idea behind comfort food is that taste and smell transport us to a land of happiness, so theoretically what is sacred should not be modified. Sensory play should offer solace in moments when we need an inner hug, but if we make comfort food recipes less fattening or more conducive to a healthy lifestyle, we can be proud of ourselves, right? Besides... it is worth creating new interpretations and telling your story anew. Here are some of our suggestions.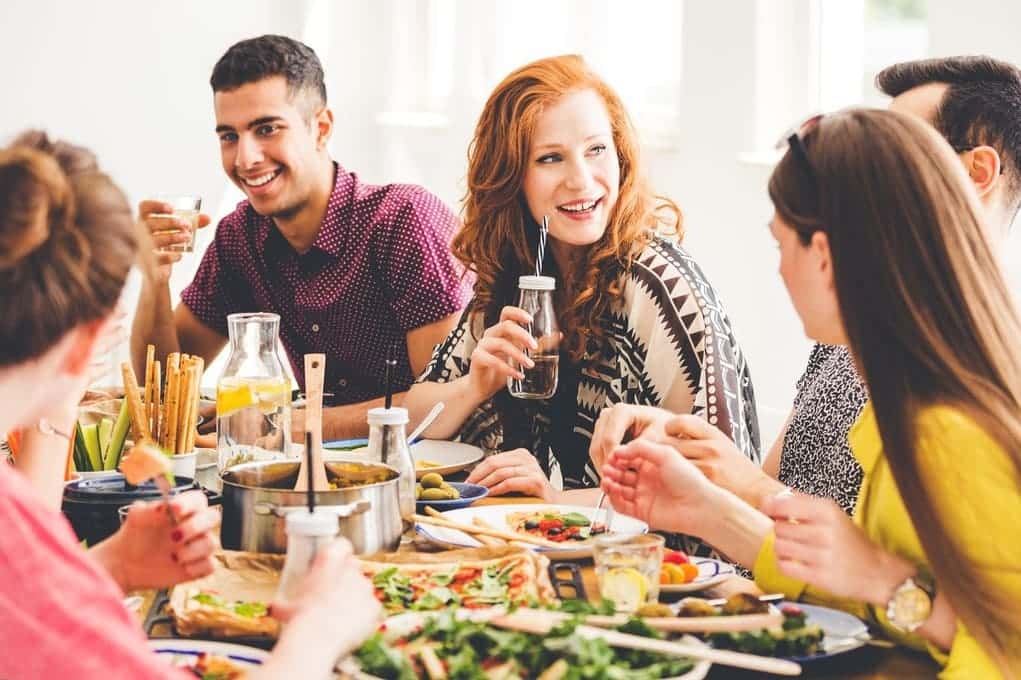 Comfort food recipes – fit recipes
Recipe for a fit style pizza with tomato sauce (8 servings)
Ingredients for the dough for the fit-pizza:
350 g whole wheat flour or spelt flour,
40 g yeast,

250ml water,

A pinch of salt,

2 tablespoons olive oil.
Ingredients for the fit-pizza sauce:
3 medium-sized onions,

4 tablespoons olive oil,

400 g tomato puree (good quality, no sugar added)

6 teaspoons dried oregano (30g)

Fresh basil,
Clove of garlic,

Dried oregano,

A pinch of salt,

Black olives.
Method of preparation:
1. Make the pizza leaven: dissolve the yeast in 125 ml lukewarm water with 4 tablespoons of flour. Set aside for 10 minutes to triple in volume (the leaven for the fit-pizza made from whole wheat flour may not work as well as the one made from wheat flour, a characteristic "bubbly" layer may form on the surface.
2. Mix the remaining flour with the salt, put it in a bowl and pour in the leaven. Stir for a moment, then add water.
3. When the dough begins to form, after about 3 minutes of kneading, add the olive oil and continue kneading until the dough no longer sticks to your hand.
5. Cover the dough with a cloth and let it rise in a warm place for about 1 hour.
6. Dust a baking tray or pizza stone with flour, place the dough in the centre and gently flatten and stretch the dough under your fingers across the surface.
7. Spread the sauce on the dough and select the ingredients of your choice. The secret of the fit-pizza lies in its thin crust and the optional approach to hard cheese or mozzarella (you might be tempted to replace them with crumbled tofu or simply to sparingly sprinkle cheese on the pizza).
8. Bake the fit pizza at 220 degrees Celsius for about 12–15 minutes.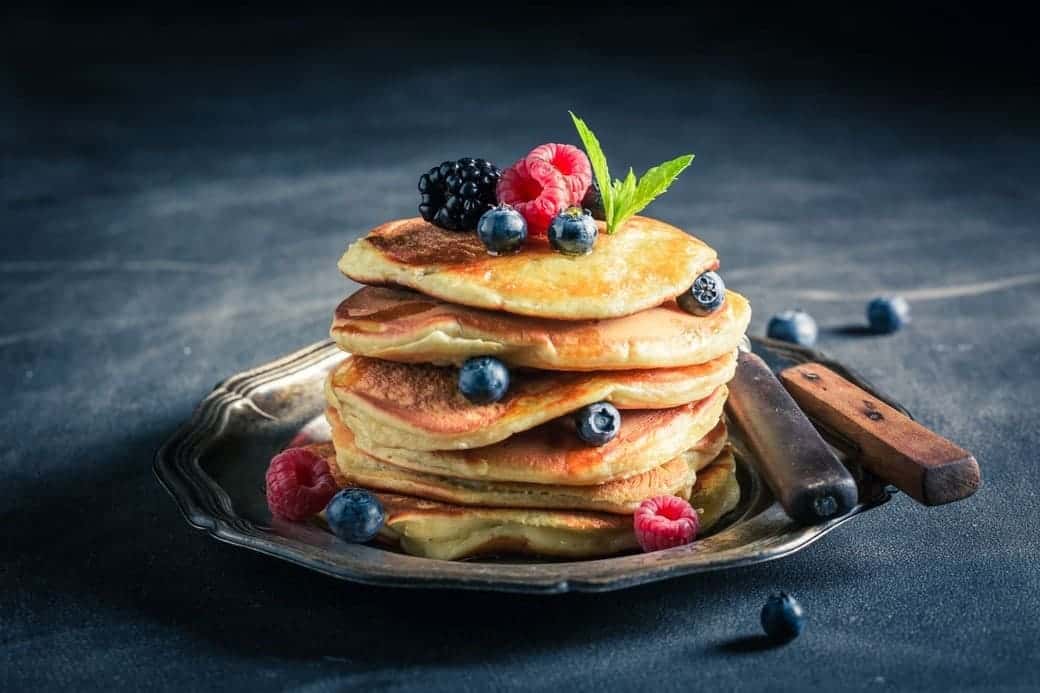 Pancakes on buttermilk with fruit
Ingredients:
800 ml buttermilk,

3 small eggs,

200 g rice flour,

2 tablespoons coconut oil or butter,

1 teaspoon baking powder,

5 tablespoons erythritol.
Method of preparation:
1. Place the buttermilk, flour and baking powder in a bowl and mix.
2. Then add the eggs, coconut oil or butter and erythritol. Combine the ingredients with a whisk or mixer until smooth.
3. Heat a frying pan (preferably non-stick) and when hot, fry the pancakes for 2 minutes on each side.
4. Serve with your favourite fruit or Greek yoghurt.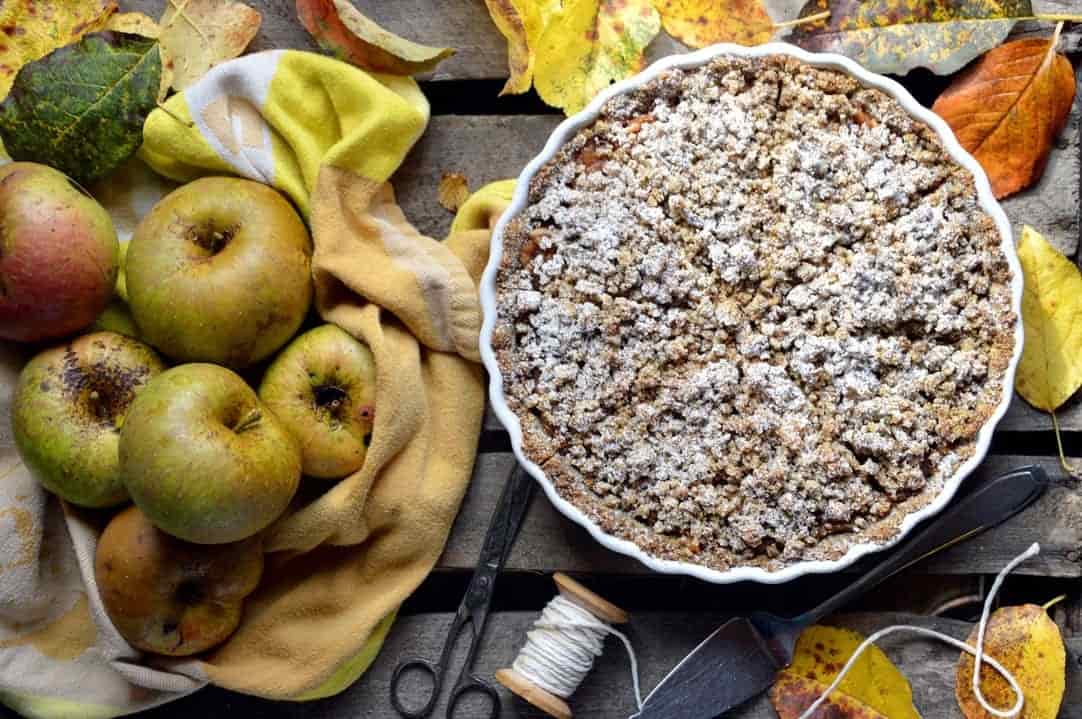 Wheat and oatmeal apple pie recipe with a coconut twist
Pastry ingredients:
4 small eggs,

150 g wheat flour,

150 g oat flour (or blended oatmeal),

100 g butter (in liquid form, cooled),

1 teaspoon baking powder,

3 tablespoons erythritol.
Filling ingredients for diet apple pie:
8 apples (preferably firm and of a sour variety),

4 tablespoons erythritol,

1 teaspoon cinnamon.
Method of preparation
1. Peel the apples and cut them into small pieces. Add the erythritol and cinnamon, mix.
2. Place apples in a pot for the pie, simmer until they are falling apart (this is important!).
3. Add the erythritol and cinnamon, mix everything thoroughly.
4. Mix the ingredients for the pastry and knead them into a ball. Put 1/3 in the fridge for half an hour (or in the freezer for 15 minutes).
5. Line the bottom of the tin with baking paper, you can grease the sides with butter.
6. Set the oven to 180 degrees Celsius.
7. Place 2/3 of the pastry on the paper, bake for about 15 minutes, then spread the apple pie filling over it.
8. Grate the cooled pastry and sprinkle it over the apples. Bake for a further 30 minutes.
* See Bargh J. A., Shalev I., "The substitutability of physical and social warmth in daily life". Emotion, 12(1), (2012).