Fitwashing is just the same, but in the context of healthy products. You buy them because you think they are diet-friendly and have superior ingredients, and you feel you are paying for premium food that is good for your health. The reality is that it's just marketing at its finest. Learn about 6 common but very sneaky tricks that can lure you to buy things you don't want. Read on to see how.
'No sugar added', but is it 'sugar-free'?
Take a look at these two nutrition fact tables for two brands of strawberry jam. Are you able to figure out which one doesn't contain any sugar?
| | | |
| --- | --- | --- |
| Ingredient | Jam X | Jam Y |
| Energy | 142 kcal/100 g | 214 kcal/ 100 g |
| Total fat | <0,5 g | 0,4 g |
| of which saturated acids | <0,1 g | 0,12 g |
| Carbohydrates | 33 g | 52 g |
| of which sugars | 33 g | 47 g |
| Protein | 0,7 g | 0 g |
| Salt | 0 g | 0,04 g |
Jam X is actually jam with sugar, and jam Y is jam without sugar, you can even find it in diabetic store sections. However, it contains almost 3 teaspoons more sugar per 100 g! This is not any kind of unlawful manufacturer practice. If we analyse the ingredients, jam Y was actually made without added sugar or sugar syrup. But it does contain concentrated grape juice, which means a lot more simple sugars.
Jam X contains good old sugar, which comes second on the list of ingredients. While grape juice adds some extra healthy nutritional values besides pure simple sugars to jam Y, this does not change the actual quality and 'healthiness' of the product in any meaningful manner. If you care about cutting your calories and eating less sugar, jam X will be a better choice, the one that has sugar in it.
How to avoid being misled?
Don't be fooled by the 'no sugar added' claim on packaging and don't automatically assume that such products are healthier and lower in calories. It's always a good idea to compare nutrition labels, too. You might be surprised!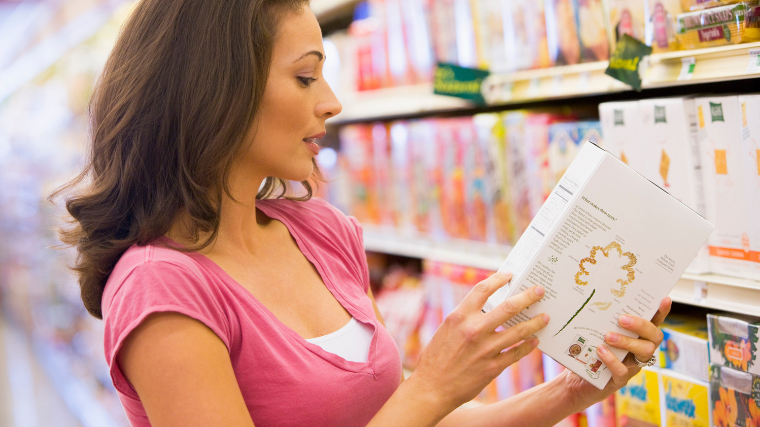 Healthy connotations and clever packaging
When grocery shopping, keep in mind that manufacturers and marketers are good at playing with associations.
White and light blue food packaging is perceived as more diet and weight loss friendly.

Slim silhouette outlines are there to hint to you that you can also look like this if you buy the product.

The addition of matcha, chia seeds or goji berries automatically makes the product appear more healthy or lower in calories.
How to avoid confusion?
Don't assume something is healthy just because it contains natural yoghurt, some fancy superfood or several vitamins.

You can also ignore claims such as 'source of 17 amino acids', these can be found in any product that contains at least a little protein.

When looking at the packaging, focus on the ingredients and the nutrition label.

Try to ignore the clever design and remember the psychological tricks meant to make you perceive the product as a healthier option.
Phoney quality certificates
There are many genuine certificates which guarantee proven product quality. The Euro-leaf logo is placed on organic products, the crossed grain symbol indicates a gluten-free product, while V-label is a symbol for labelling vegetarian products.
The actual certificates, however, are very often altered and put on labels in another form, taking advantage of the ignorance of consumers who do not think about what they are looking at. Graphic symbols resembling certificates which do not have any specific meaning are, for instance, a BIO logo against a green tree, or notices such as 'nature', 'natural product', 'made by nature', 'fit'. They are expected to create positive associations and entice you to buy. However, a product does not need to meet any criteria to design an individual graphic symbol and put in on the label.
Obviously, manufacturers are not allowed to lie on package labels. That's why they usually put elusive phrases on these 'fake signs and certificates', such as 'from nature', which are actually not false, but meaningless.
How to avoid being misled?
Verify if the certificate or sign on the packaging you are looking at is officially recognised and actually exists.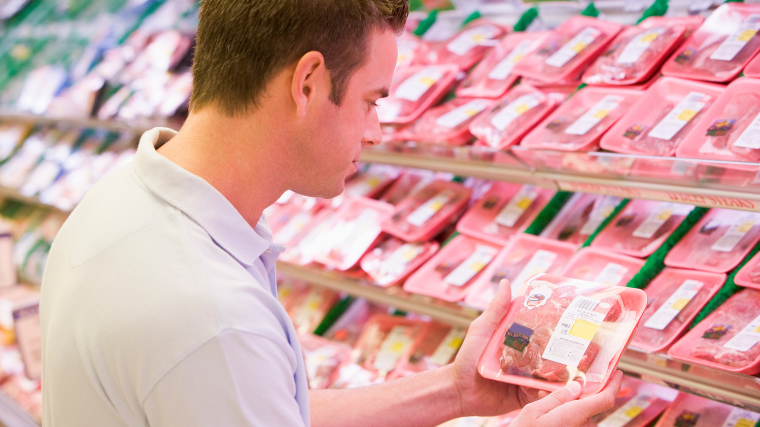 Hiding sugars under other names
Another common trick used to make products appear more healthy is concealing the sugar on the ingredient list under other names. Increasingly conscious consumers are more likely than ever to ponder over the label before they put the product in the cart. At a glance, the ingredients tell us there is no sugar, but it can be hiding under different names. Sucrose, glucose syrup, maltose... all of them are actually the synonyms of sugar.
How to avoid being misled?
Take care to check the meaning of every word on the ingredient list, become familiar with the long list of sugar synonyms, or look at the 'of which sugars' field in the nutrition table to examine the product in detail.
It's either fat or sugar
Another favourite ruse of food manufacturers is to juggle with sugary and fatty ingredients. Low fat 'light' products are enriched with sugars or maltodextrin. The product does contain less fat, but the calorie content is the same or only a bit lower.
'Sugar-free' products, on the other hand, often contain more fat and high-calorie sugar substitutes. Other tactics can also be employed to maintain product properties. Sometimes additional emulsifiers and thickening agents must be used.
How to avoid confusion?
There's no better way than carefully reading the list of ingredients and nutrition label of the product. Preferably, compare it with a similar product in the same category.
Are 'cane sugar', 'brown sugar' and 'coconut sugar' any better?
Do you think a product containing brown sugar is better than a product with white sugar? You're wrong. While cane and coconut sugar are indeed richer in minerals than white sugar per 100 g, their healthy properties are an illusion. In practice, such sugars will never be a significant source of potassium, magnesium or other minerals, and this is the only thing that makes them really different from white sugar.
Of course, this is not the case with sweeteners such as xylitol, erythrol, aspartame, stevia... their chemical composition is completely different and they really have a different effect on the body. Most of all, they do not raise blood sugar as much.
How to avoid confusion?
Don't overpay for products containing fancy types of sugar. If you feel like splurging, instead of getting a more expensive product with cane sugar, buy one that contains regular sugar, and add a packet of frozen bilberries or raspberries. This health investment will surely pay off.
Exceptional situation on the market for raw ingredients
Recently, because of the pandemic, the war in Ukraine and the energy crisis, some ingredients are in short supply. For instance, sunflower oil tends to be harder to get. This is not intentional, but manufacturers have to replace some ingredients with substitutes. That's why sometimes you will come across products where sunflower oil has been replaced with palm oil, for example.
Product labels, however, are printed well in advance. Because of that, the European Union allows producers to label ingredient changes by means of additional stickers or embossing on the packaging. These can appear in non-obvious places, like next to the use by date. This is not a typical example of fitwashing, because it's not a scheme, but you should definitely keep it in mind.