Trying to avoid sweets, but still craving them sometimes? Being on a diet, or just eating healthy, does not mean that you need to skip that cake to go with your coffee or dessert after dinner. See how to enjoy sweet moments in a healthy way.
Quickest ever date dessert
Dates are a very popular ingredient in all kinds of healthy desserts. Aside from their natural sweetness, they are rich in potassium, magnesium and calcium! On top of that, they contain the fat-soluble vitamin A. In desserts, dates should be combined with sources of healthy fats to fully utilise their nutritional potential. Two date pralines (made of one date) contain 155 kcal, 3.5 g protein, 7 g fat and 20 g carbohydrates.
To make a healthy snack with dates, you need only three ingredients:
Fresh or dried dates

Any nut butter (peanut, almond, cashew or mixed)

Dark chocolate (70% cocoa minimum)
Cut the dates lengthwise into boat shapes.

Chop the dark chocolate finely and put the chocolate chips inside the date boats.

Top with nut butter of your choice, and that's it!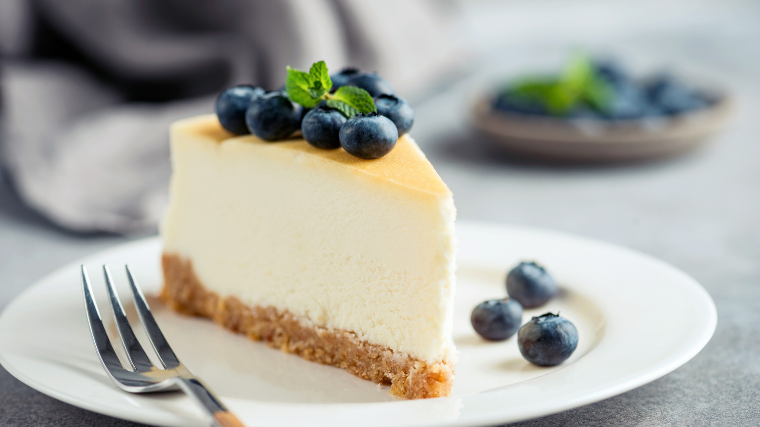 No-bake protein cheese cake
Protein is one of the key macronutrients in food. It is especially important for people who are physically active or on a diet. However, dietary protein does not need to be obtained only from savoury meals. Learn a sweet way to pack more protein into your diet!
For one serving, you will need:
1 cottage cheese

1 vanilla skyr (or other high protein vanilla yoghurt)

2-4 tsp erythritol

1 tbsp gelatine or agar

fruit for garnish (e.g. a handful of raspberries)

4 biscuits (you can skip them if you are cutting calories)
Dissolve the gelatine (or agar) in a small amount of hot water and set aside to cool down.

In a separate bowl, blend cottage cheese with yoghurt and erythritol until smooth.

When almost done, add the cooled gelatine.

Prepare a dish for your cheesecake and line it with biscuits (you can skip this step if you are cutting calories).

Pour the blended cheese into the dish and 'stick' half of the fruit into the cheese.

Refrigerate for at least 3 hours to set. Before serving, decorate on top with the remaining fruit.
Macronutrients per serving with biscuits:
476 kcal
47 g protein
12 g fat
44 g carbohydrates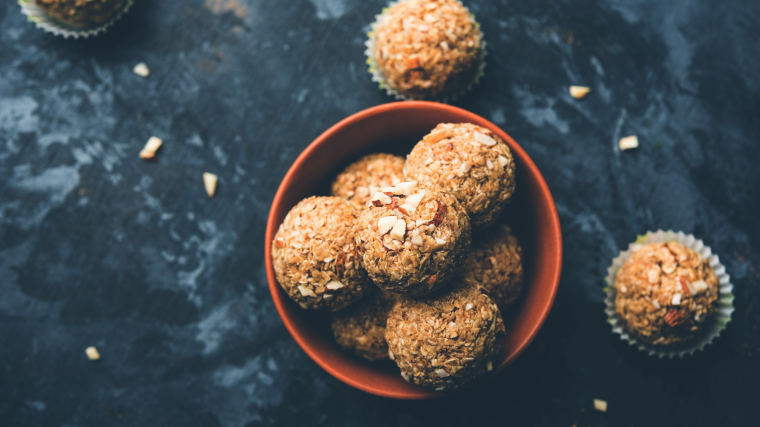 Millet Rafaello balls
If you like coconut flavour, you will love this dessert! This healthy spin on Rafaello makes a perfect pre- or post-workout snack: it's light, packed in carbohydrates and can go everywhere with you!
Ingredients:
1 bag millet grains (100 g)

½ can coconut milk (optionally the light version)

100 g desiccated coconut

Erythritol or other sweetener to taste (2-4 tbsp according to your preference)

Coconut oil (as an option)

Almonds (as an option)
Rinse the millet grains with cold water to get rid of the bitter taste.

Add coconut milk and erythritol to the grains and boil until the milk is fully absorbed (add water as necessary during cooking).

When ready, stir in desiccated coconut and optionally one tablespoon of coconut oil (you can skip the oil if you are cutting calories).

Leave to cool and then refrigerate for at least one hour.

Once the mixture has cooled and set, form small balls (you can also roll them in desiccated coconut or coconut flour). As an option, you can put one almond into each praline.
From these proportions you will make about 20 pralines. Calorie content per serving (4 pralines) without oil and almonds:
275 kcal
4 g protein
21 g fat
17 g carbohydrates
Fluffy strawberry mousse
Fruit mousse is a low-calorie way to add more fresh fruit and some extra protein to your diet. This dessert can be made of any fruits of the season you fancy.
Ingredients:
1 natural yoghurt

1½ cup strawberries

1 sugar-free strawberry jelly

2 tbsp erythritol
Dissolve the fruit jelly in a small amount of hot water (about ½ cup) and set aside to cool down.

Blend yoghurt and one cup of strawberries (put ½ aside) and erythritol together until smooth.

When almost done, add the dissolved jelly. Pour the mixture into a bowl and incorporate the rest of the strawberries.

Refrigerate at least for a few hours until the dessert sets.
Nutritional value:
220 kcal
11 g protein
5 g fat
33 g carbohydrates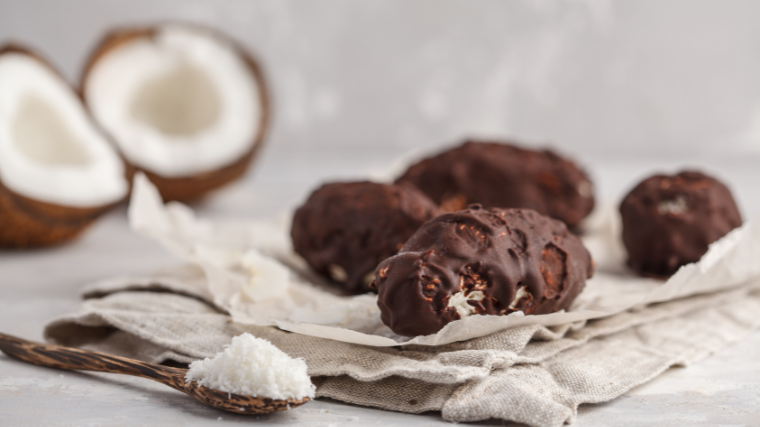 Home-made Bounty bars
Aside from pralines, coconut makes a great ingredient of healthy home-made candy bars! They are an excellent choice for people on a low-carb or keto diet.
Ingredients for ca. 16 bars:
200 g desiccated coconut

200 g coconut milk

1 tbsp coconut oil

Erythritol or other sweetener to taste (2-4 tbsp)

100 g dark chocolate, 70% cocoa minimum
Bring the coconut milk to a boil together with desiccated coconut, oil and erythritol.

Cook until the desiccated coconut absorbs the milk and set aside to cool down (preferably in the fridge).

Once the mixture is cold, form bars.

In the meantime, melt the chocolate over a bain-marie until liquid.

Cover the bars in molten chocolate and refrigerate for a few hours until completely set.
Macronutrients per bar:
149 kcal
1.5 g protein
14 g fat
3.8 g carbohydrates