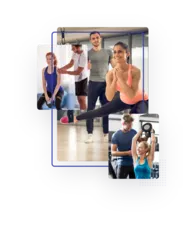 What is Zdrofit Zdrowe Miejsce?
It is a chain of newly opened medical facilities in Warsaw where you can get back in shape while following an exercise plan designed by experts.For a full list of facilities located in Warsaw, Poznań, Wrocław, Kraków, and Katowice, click HERE.
Get back in shape safely and under the guidance of the best specialists.

You keep in touch with a physiotherapist

Sign up for physioclasses (group sessions with a physiotherapist) or one-to-one physioconsultations.
LOG IN TO COMPLETE THE FORM
Zdrofit Zdrowe Miejsce is the perfect choice for you if you want to:
safely resume physical activity after a break,

benefit from physiotherapists' advice regarding safe and healthy movement,

improve your health and minimize risks related to sedentary work.
How to use a facility?
Complete the form
Complete the contact form available on our website.
Set up a Zdrofit Zdrowe Miejsce Patient Card
Call our Helpline or visit a Zdrofit Zdrowe Miejsce facility to do so.
Start exercising
Take advantage of Zdrofit Zdrowe Miejsce facility services.
Frequently asked questions
What kind of services are provided by Zdrofit Zdrowe Miejsce facilities and what do they look like?
Do I need a referral from a doctor to use the services provided by Zdrofit Zdrowe Miejsce facilities?
Who can use the services provided by Zdrofit Zdrowe Miejsce facilities? What are the rules?
How do I set up a Patient Card and what do I need it for?
Can I get manual therapy at the facilities?
Do I need to pay extra for the services of a physiotherapist?
What sanitary measures are in place at Zdrofit Zdrowe Miejsce facilities?
Is it possible to have an additional one-on-one consultation with a physiotherapist?