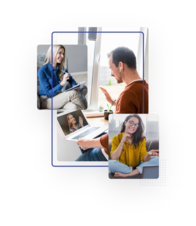 Organize your thoughts, fight fear and take care of your comfort
If you feel hesitant before consulting a psychologist, don't worry, it's perfectly normal to feel that way. A conversation is the first step towards holistic health. See how you can benefit from a consultation with a psychologist:
Take control of your own thoughts.

Say goodbye to social anxiety.

Take care of private and professional relationships.

Relax and manage negative emotions.
How to sign up for a consultation?
Pick a day and time that works with your schedule and get expert advice from a psychologist.
Check available dates in the calendar and select the most convenient day and time.
2.
Prepare for the meeting
Gather all the important information and find a quiet place for the meeting.
3.
Chat with the psychologist
Voice all your thoughts and worries during a 30-minute video call.
Frequently asked questions
How many consultations can I book?
How to book a consultation?
How to cancel the meeting?
What if I already have a Skype account?
Do I need a Skype account for the video call?
What does the meeting look like?
How can I sign up for a free consultation?