Health and body
Participate in online workout sessions with professional trainers and create your own diet. Get professional support from experts and consult your progress.
Soul and mind
Read ebooks, listen to audiobooks, learn English online and take the Mindfulness for stress course.
MultiLife is a set of 10 carefully selected online services as well as sessions with experts – everything you need to take care of yourself holistically, day by day. Available 24/7, anywhere, and anytime. Join today!
What do you get with MultiLife?
MultiLife is your own way for comprehensive development! Start a balanced diet, become more active, calm your mind and become more fluent in English.
Create a balanced diet and work out online the way you like.

Maintain a calm mind by meditating and listening to audiobooks.
Learn English at your own pace and on any level from A1 to C2.
You do not need a MultiSport card to order MultiLife.

How to order MultiLife?
To get MultiLife, simply talk to your employer or the HR team at your company. All it takes is just a few steps.
To order MultiLife, please inform your Human Resources department at work.
You will get a welcome email with everything about MultiLife and a link to create your account.
Click on the link in the email and set up your account using your MultiLife number.
Done! Discover everything that MultiLife offers and start enjoying a better lifestyle!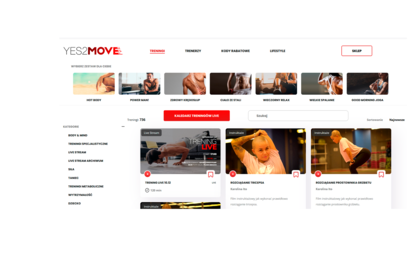 Online workouts
Work out with professional trainers from the best fitness clubs in Poland. Discover hundreds of workout programs on the Yes2Move platform and participate in live sessions up to 5 times a week.
Over 400 different workouts
Live events
Les Mills trainings
Les Mills for kids
Personal trainer
Sign up for free consultations with fitness professionals. Let their wisdom fuel your workout fire today!
Dietician
Talk about your nutrition goals during a video or chat consultation with a nutritionist or a dietitian and balance your diet.
DISCOVER MULTILIFE
The essence of a healthy lifestyle
We know that a healthy lifestyle is more than just a balanced diet and sport. It is also the awareness of your own, self-motivation and the art of slow life. With MultiLife you can enjoy it all!
Frequently Asked Questions
Can I order MultiLife at my company?
What kind of services are included in MultiLife?
How will I get access to the MultiLife package?
How can I order MultiLife?
How much does MultiLife cost?
What is the difference between MultiLife and MultiSport?
Do I need a MultiSport card to use MultiLife?
Contact us
If you have any more questions, please feel free to contact us. We are happy to help!